Yuksel Proje – Tumas JV on Tuesday won the General Consultant (GC) and Project Management Consultant (PMC) contract for Kolkata Metro's Line-3's 6 km Majerhat – Esplanade section.
This northern section of the 15.215 km Line-3 (Joka – Esplanade) consists of a roughly 2 km under construction elevated section from Majerhat to a ramp north of Mominpur. The rest of the line will be underground, with twin tunnels running through 4 stations at Kidderpore, Victoria, Park Street and Esplanade.
Rail Vikas Nigam Ltd. (RVNL) had invited bids for this service in December 2019 with an objective to assist them in the preparation and speedy implementation of this long-delayed line. Technical bids were opened in July 2020 to reveal 8 bidders.
Here are the technical scores of the top 5 bidders:
Yuksel Proje India – Tumas India JV: 9918.752
Egis Rail: 9907.153
ILF Consulting Engineers India: 9773.304
Technica Y Projectos, S.A. (TYPSA): 9386.905
Ayesa Ingeniería y Arquitectura: 9245.35
Financial bids were opened on Tuesday. I don't have their bid values, but hear that Yuksel – Tumas placed a bid of Rs. 88.96 crore – making them the winner after the 80:20 Quality and Cost Based Selection (QCBS) method.
Update: Here are the financial bid values and final scores after combining technical & financial scores
| | | |
| --- | --- | --- |
| Bidder | Bid | Final Score |
| Yuksel-Tumas | Rs. 88.96 crore | 95.41 |
| Ayesa | Rs. 71.42 crore | 93.96 |
| Egis Rail | Rs. 99.94 crore | 93.55 |
| ILF | Rs. 99.62 crore | 92.53 |
| TYPSA | Rs. 102.09 crore | 89.09 |
Contract: RVNL/KOL/UGMetro/MJT-ESP/GC cumPMC
Brief Scope: General Consultancy cum Project Management Consultancy works for Construction of Elevated and Underground Metro Railway Works from Majerhat (Ex.) to Esplanade, Approx. 6 Km in connection with Joka-BBD Bag Metro Corridor in the state of West Bengal, India.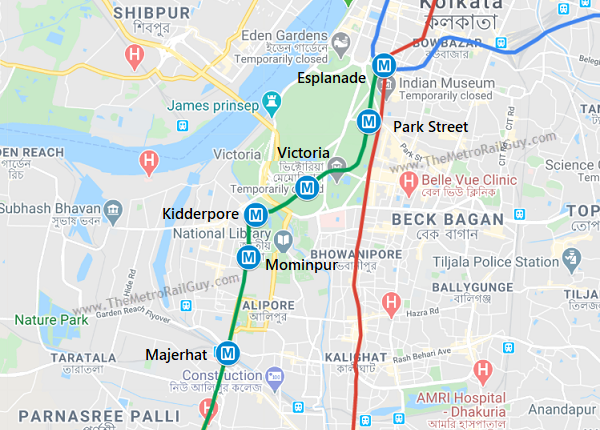 The role of the GC typically includes assistance with design, supervision, safety, quality control and contract management. If and when awarded, Yuksel – Tumas JV will be onboard with a tenure lasting at least 1890 days (5.2 years).
They will work with two civil contractors. Among them, GPT Infraprojects in August 2020 was awarded a Rs 196.30 crore contract for work between Piers P276 and P314, two stations at Majerhat & Mominpur, and a small 225 meter viaduct ramp to Joka Depot.
A tender notice for the roughly 4 km underground section between Kidderpore and Esplanade with 4 stations is currently pending. Twin tunnels for that will pass through the Military's Maidan area, near Fort William, and an agreement on its alignment is yet to be reached despite various "fruitful" meetings between RVNL and Ministry of Defence officials.
For more updates, check out my Home Page!
– TMRG