Bangalore Metro Rail Corporation Ltd. (BMRCL) has officially started trial runs (train testing) on Bangalore Metro's new 7.5 km Mysore Road – Kengeri section of the Purple Line which'll extend the line south-westward.
On Monday, BMRCL and BEML's engineers manually operated a 6-coach train from Mysore Road to Nayandanahalli, and today operated the train onward to Kengeri Station with the sole objective to check for Schedule of Dimensions (SOD) clearances and observe the train's interaction with the civil structure to ensure there are no physical obstructions along the way.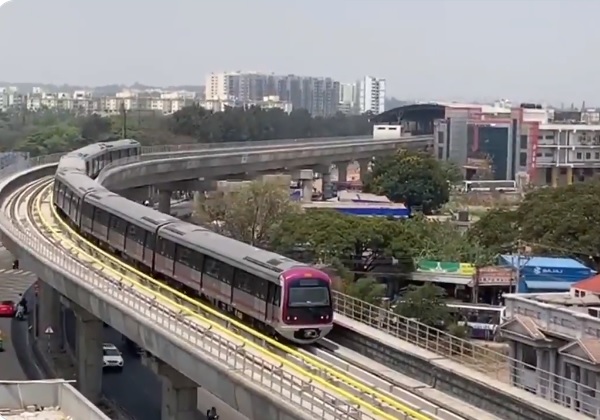 This second new section of the 73.92 km Bangalore Metro Phase 2 project was built by IL&FS (Reach 2A) and Soma Enterprise (Reach 2B) with Alstom providing both the power supply (electrification) and signaling solutions.
Alstom's engineers will begin their rounds of testing on Wednesday. In the coming weeks various subsystems along with the train's response to being operated at different speeds & braking, and the behavior of the track system and third rail system will be monitored.
This elevated section will first connect Mysore Road with Kengeri through 6 new stations in Q3 2021 and later to Challaghatta Station in 2023 which lies across NICE Peripheral Road.
It overall includes 7 new elevated stations at Nayandahalli, Rajarajeshwari Nagar, Jnana Bharathi (formerly Bangalore University Cross), Pattanagere, Kengeri Bus Terminal (formerly Mailasandra), Kengeri and Challeghatta.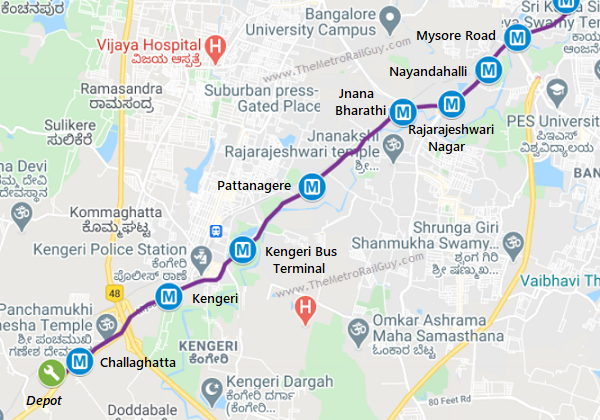 The line's 750 V DC Third Rail system was powered-up on March 16. Station architectural finishing work is underway by Starworth Infrastructure & Construction – see some images here, here and here.
Couple videos:
BMRCL and Alstom are aiming to complete testing and CMRS certification by June-end so that the line can be opened prior to August 15 (Independence Day)
Once this elevated section becomes operational, the existing 18.10 km Purple Line, connecting Baiyyappanahalli – Mysore Road, will become 25.60 km long and the entire Bangalore Metro network will become 55.60 km large – surpassing Chennai Metro's 54.10 km network to once again become the 3rd largest in India.
For more updates, check out my Home Page!
– TMRG