Delhi Metro Rail Corporation (DMRC) today invited tenders to construct the eastern-most underground section of the Delhi Metro Phase 4's new 23.622 km Silver Line which will connect Aerocity to Tughlakabad via 16 stations.
This 6.981 km section – part of Package DC-07 – connects Sangam Vihar Station's east-end and Sarita Vihar Depot with 3 stations at Maa Anandmayee Marg, Tughlakabad Railway Colony, and Tughlakabad where it will form an interchange with the Violet Line's station built in Phase 2.
This is Silver Line's 2nd JICA-funded package and overall 3rd civil package for which a tender notice has been published. Prior to this, elevated package DC-04 (Sangam Vihar – Saket G Block) was awarded to YFC Projects, while bidding is underway for underground package DC-08 (Aerocity – Kishangarh)
Brief Scope: Design and Construction of Underground UP & Down Tunnels by Shield TBM from end of Cut & Cover tunnel near Sangam Vihar metro Station up to existing Sarita Vihar depot, Underground Ramp and Cut & Cover Tunnels near Sangam Vihar and Tughlakabad metro station and Underground Metro Stations at Maa Anandmayee Marg, Tughlakabad Railway Colony and Tughlakabad including Retrieval/Launching shafts on Aerocity Tughlakabad corridor of Delhi MRTS Project of Ph-IV
Completion Period: 42 months
Pre-Bid Meeting: 19.05.2021 at 1100 hrs
Bid Submission End Date: 21.06.2021 at 1500 hrs
Technical Bid Opening Date: 22.06.2021 at 1500 hrs
DMRC had previously estimated this section to cost Rs. 1365.51 crore, but that was up to only Tughlakabad Station. The package's scope now includes tunnels all the way up to the existing Sarita Vihar Depot, which will be augmented to stable and maintain the Silver Line's train-sets.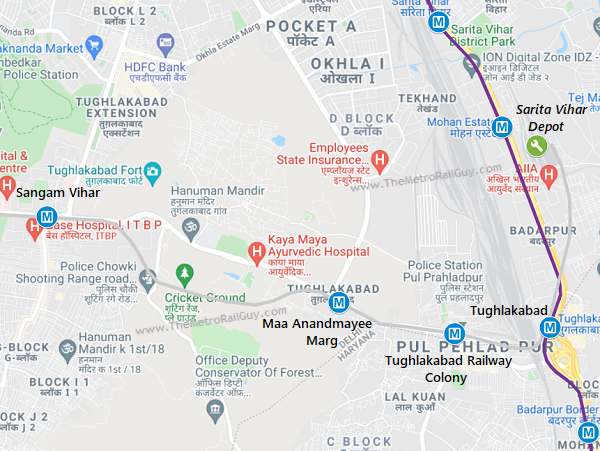 3 interesting callouts mentioned in the tender's detailed scope:
DMRC requires the assigned contractor to use 5 tunnel boring machines (TBMs)
Distance from Sangam Vihar Station to Maa Anandmayee Marg is 3.014 km in order to skirt around Tughlakabad Fort and other significant monuments / tombs strewn around in the area. Twin tunnels here will be the longest tunnels between adjacent stations on the entire network.
A crossover will be built north of Tughlakabad Station to allow trains to switch tracks.
With this development, now just 2 high value civil tender notices are pending: 1 for the Silver Line (Kishangarh – Saket G Block) and 1 for the Magenta Line's 28.9 km Janakpuri West-R K Ashram extension.
| | |
| --- | --- |
| Civil Package | Status |
| Package DC-05: Derawal Nagar to RK Ashram, 7.46 km underground section with 6 stations | Tender Notice Pending |
| Package DC-08: Aerocity to Kishangarh, 6.11 km underground section with 4 stations | Bids Invited in April |
| Package DC-09: Kishangarh to Saket G-Block, 6.88 km underground section with 4 stations | Tender Notice Pending |
| Package DC-07: Sangam Vihar to Sarita Vihar Depot, 6.981 km underground section with 3 stations | Bids Invited (this post) |
For more updates, check out my Home Page!
– TMRG