It has begun! Delhi Metro Rail Corporation (DMRC) today invited tenders for the construction of the first underground section of the Delhi Metro Phase 4's new 23.622 km Silver Line which will connect Aerocity to Tughlakabad via 16 stations.
This 6.116 km section – part of Package DC-08 – between Aerocity and Kishangarh comprises of 6.11 km twin tunnels, to be built by tunnel boring machines, and 4 stations at Aerocity, Mahipalpur, Vasant Kunj and Kishangarh.
Its construction will be financed by the Japan International Cooperation Agency (JICA) with whom the Government of India finally reached an agreement and signed a Rs 8,390 crore ODA loan in March towards financing 44 civil & system packages, some of which are already in motion.
Brief Scope: Design and Construction of Twin Tunnel (Up & Down Line) by Shield TBM, Cut and Cover Tunnel box and four Underground stations namely Aerocity, Mahipalpur, Vasant Kunj and Kishangarh with Entry/Exits & Connecting subways from chainage (-) 760 mt. to 5356.285 mt. of Aerocity to Tughlakabad Corridor of Phase-IV of Delhi MRTS.
Completion Period: 42 months
Pre-Bid Meeting: 29-Apr-2021 at 11 AM AM
Bid Submission End Date: 31-May-2021 at 3 PM
Technical Bid Opening Date: 01-June-2021 at 3 PM
DMRC has previously indicated this section is estimated to cost Rs. 1349.371 crore.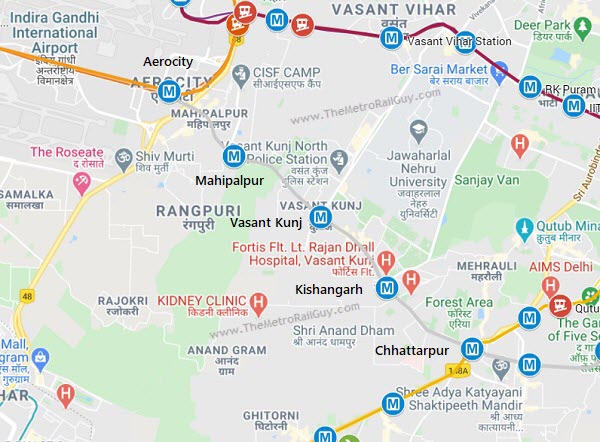 4 interesting callouts mentioned in the tender's detailed scope – all pertaining to Aerocity:
A crossover will be constructed by Cut & Cover method, in soil/rock/mix strata, west of Aerocity metro station (chainage -310.780 mt to – 125.000 mt)
Silver Line's tunnels will pass underneath the Airport Express Line's tunnels west of Aerocity at chainage -560.780
A permanent TBM launching shaft will be constructed at the extreme west-end (starting boundary of the contract) at chainage -760 m for extending the Silver Line's tunnels beyond this point in the future to IGI Airport's Terminal 1 Station to meet up with the Magenta Line
Delhi – Alwar RRTS line's Aerocity Station will be built east of the Silver Line's station. Concourse level of Silver Line's new station will be on the same level as the RRTS Station's platform. This means that the Silver Line's tunnels will go underneath the RRTS Station's box.
With this exciting development, now 3 just high value civil tender notices are pending: 2 for the Silver Line and 1 for the Magenta Line's 28.9 km Janakpuri West-R K Ashram extension. High value tenders for Phase 4's systems, which includes procuring 288 new coaches (RS-17), will likely be invited after wrapping up the civil side of things.
| | |
| --- | --- |
| Civil Package | Status |
| Package DC-05: Derawal Nagar to RK Ashram, 7.46 km underground section with 6 stations | Tender Notice Pending |
| Package DC-08: Aerocity to Kishangarh, 6.11 km underground section with 4 stations | Bids Invited (this post) |
| Package DC-09: Kishangarh to Saket G-Block, 6.88 km underground section with 4 stations | Tender Notice Pending |
| Package DC-07: Sangam Vihar to Tughlakabad, 6.477 km underground section with 3 stations | Tender Notice Pending |
For more updates, check out my Home Page!
– TMRG