HCC – KEC JV (Hindustan Construction Company Ltd. – KEC International Consortium) this past week began barricading works in Nazarethpettai for constructing Chennai Metro's Line-4 between Light House – Poonamallee Bus Depot.
The consortium was awarded a Rs. 1007.95 crore contract for the 118.9 km Phase 2 project's 7.945 km section (Porur – Poonamallee Bypass) earlier this month and is chasing a 36 month completion deadline.
Besides the main-line's viaduct and a depot-line to Poonamalee Depot, the team is responsible for constructing 9 stations at Chennai Bypass Crossing, Ramachandra Hospital, Iyyapanthangal Bus Depot, Katupakkam, Kumanan Chavadi, Karayan Chavadi, Mullai Thottam, Poonamallee Bus Terminus and Poonamallee Bypass.
Here's a snap from Poonamallee High Road with a piling rig deployed by HCC-KEC's subcontractor Siruvani Piling and Drilling. The first barricaded portion is only about 50 meters long and is primarily being used as a staging ground for equipment.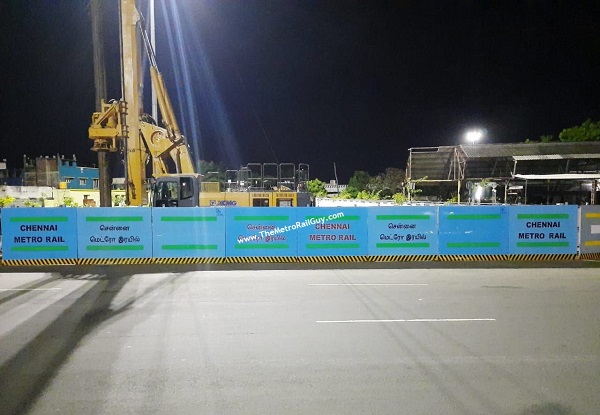 Actual piling work – the first step of construction for the line's superstructure – is expected to begin in Q4 2021 after the completion of pile load testing and other pre-construction activities.
For more updates, check out my Home Page!
– TMRG