Eight firms have submitted bids to commission the 25 kV overhead equipment and 33 kV auxiliary power supply system for Delhi Metro Pink Line's extension, after Delhi Metro Rail Corporation (DMRC) opened technical bids for Package DE-14 on June 3.
Besides electrifying the 12.098 km Maujpur – Majlis Park section, the scope of this Phase 4 project's package also includes electrical augmentation works at Mukundpur Depot. That train maintenance facility is being remodeled to increase capacity for the Pink Line and support Magenta Line's trains in the future – more details here.
DMRC invited tenders (bids) for this package in mid-March with an estimated cost of Rs. 79.52 crore and 540 days (1.5 years) completion deadline.
Bidders:
Alstom Transport India
Cimechel Electric
Kalpataru Power Transmission
KEC International
Ojasync Pvt. Ltd.
Salasar Techno Engineering
Shyam Indus Power Solutions
Texmaco Rail and Engineering
Package: DE-14
Brief Scope: Design, Supply, Installation, Testing and Commissioning of 25 kV Overhead Equipment (OHE), 33 kV Auxiliary Power Supply for elevated section of Line-7 Ext. (Maujpur to Majlispark) and Augmentation works of Mukundpur depot of Delhi Metro MRTS Phase-IV. (see detailed scope here)
This section of the 65.1 km Phase 4 project is under construction by Longjian – KEC JV (DC-02) with 8 stations at Yamuna Vihar, Bhajanpura, Khajuri Khas, Sonia Vihar, Wazirabad Surghat, Jagatpur Village, Jharoda Majra and Burari.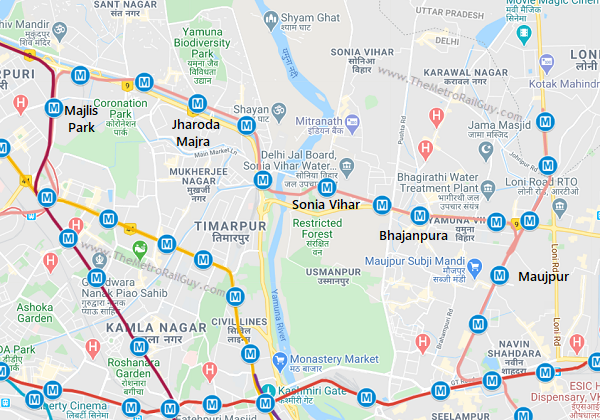 Back in June 2013, Siemens was awarded the 58.59 km Line-7's (Mukundpur – Majlis Park) electrification contract through the 162 km Phase 3 project's Package CE-07 Lot-01. For this package of Phase 4 – they might have bid with KEC in a JV, as they've done in Kolkata, but that remains unconfirmed.
Anyhow, the bids have now been sent for technical evaluation which can take a couple months to complete. When that is done, the financial bids of the technically qualified bidders will be opened to reveal who's the lowest bidder and most likely contractor.
For more updates, check out my Home Page!
– TMRG
Hat tip: SandipThink