India's National High-Speed Rail Corporation Limited (NHSRCL) on June 15 received 25 bids to prepare general arrangement drawings (GADs) for developing Detailed Project Reports (DPRs) for 2365 km of new High-Speed Rail lines.
This package relates to the following 4 proposed high speed rail lines for which various surveying works are currently underway:
NHSRCL invited bids for this package in mid-March with a 240 day period of completion deadline.
Bidders:
Arkitechno Consultants
Artefact Projects
aXYKno Capital Services
Balaji Railroad Systems
CE Testing Company
Chaitanya Projects Consultancy
Cos Consultancy Services
Delf Consulting Engineers India
Delhi Integrated Multi-Modal Transit System (DIMMTS)
Dynamic Projects
Fortress Infracon
Geo Designs and Research
Holtec Consulting
Lion Engineering Consultants
Aakar Abhinav Consultants
Highway Engineering Magnitude Consortium
Park Projects Consultancy
RITES
SATRA Services and Solutions
SECON
Spectrum Techno Consultants
Technical Consultancy Services
Tractebel Engineering
Translink Infrastructure
Voyants Solutions
Contract: NHSRCL/CO/CA/GAD/2021/06
Scope: Preparation of General Arrangement Drawings (GADs) of Crossing Bridges over Rivers/Canals/Railways and Roads (Expressway, NH , SH and Major District Roads) and GADs of proposed Stations and Maintenance Depots for Detailed Project Report (DPR) of various HSR Corridors (About 2365 kms long)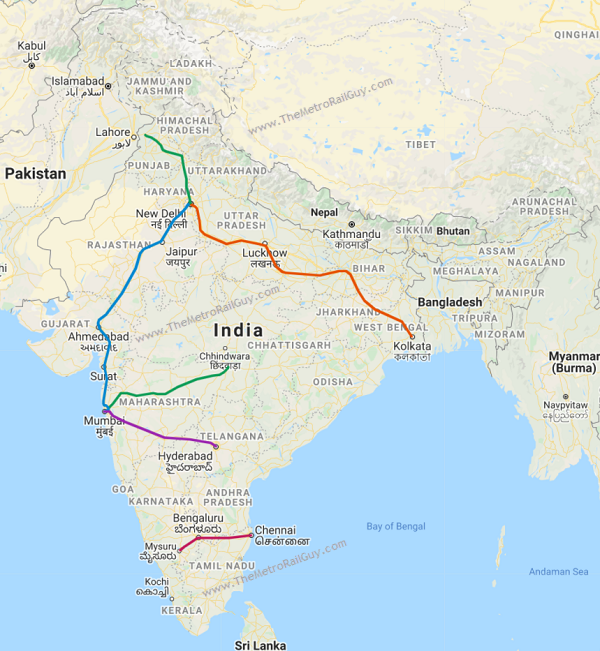 The bids have now been sent for technical evaluation which can take a couple months to complete. When that is done, the financial bids of the technically qualified bidders will be opened to reveal who's the lowest bidder and most likely contractor.
As shared earlier – this GAD-related package is significant as it's the very last of 7 packages for preparing DPRs of all new HSR lines. The other 6 tenders are related to surveys (data collection / utility identification), studies (traffic & ridership / SIA / EIA) and alignment design (LiDAR).
Here's a list of the winners or the current status for GAD preparation:
For more updates, check out my Home Page!
– TMRG