February 14, 2022 Update: Afcons Infrastructure – Sam India JV is lowest bidder (L1) – see details and bid values.
June 24, 2021 Original Post: Per an advanced procurement document shared by a follower, Uttar Pradesh Metro Rail Corporation (UPMRC) on June 18 invited tenders for constructing Kanpur Metro Phase 1's second underground section from Nayaganj Station to Transport Nagar Ramp.
An official tender notice for this package (KNPCC-06) is yet to be published on UPMRC's website. I'll add details on its exact length, chainage, required number of tunnel boring machines (TBMs), tunnel lengths etc. when available.
I estimate this section with 3 underground stations (Kanpur Central, Jhakarkatti and Transport Nagar) to be approximately 4.65 km long. Like Package KNPCC-05 (awarded to Gulermak – Sam India Builtwell JV), UPMRC will likely require its contractor to use at least 2 TBMs for constructing 6 tunnels.
Package: KNPCC-06
Brief Scope: Design and construction of TBM tunnel, cut and cover tunnel, underground ramp from Kanpur Central end of Nayaganj station to elevated ramp after Transport Nagar and three underground metro stations (viz. Kanpur Central, Jhakarkatti and Transport Nagar) including architectural finishes, E and M, TVS, ECS etc. on Corridor-1 of Kanpur MRTS Project at Kanpur, Uttar Pradesh, India.
Deadline: 36 months
Estimated Cost: Rs. 1250 crore
Bid Submission Deadline: 01/09/2021 at 15:30
Technical Bid Opening: 02/09/2021 at 15:30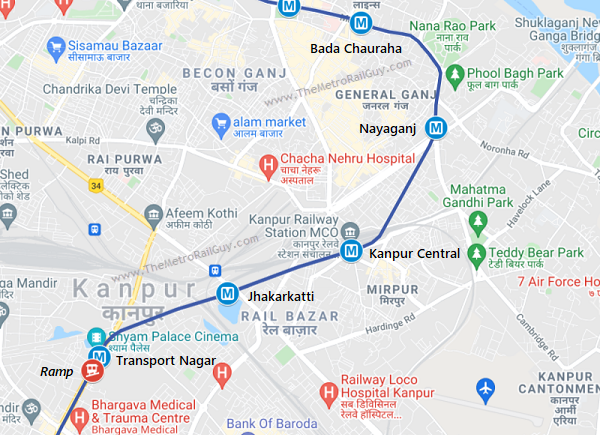 This contract will be financed by the European Investment Bank (EIB) through a €650 million (approx. Rs. 5661 crore) loan approved in July 2020.
Kanpur Metro Line-1's entire underground section (Permat Ramp – Tranport Nagar Ramp) is approximately 8.621 km long with 7 stations en route. Back in May, Gulermak – Sam India JV working on the first underground section (Permat Ramp – Nayaganj) started setting up their casting yard and began pre-construction works on-site related to utility shifting.
For more updates, check out my Home Page!
– TMRG