RT Vision Technologies on June 14 emerged as the lowest bidder for the platform screen door contract at Dwarka ECC Station on the Delhi Metro Airport Express Line's new 1.878 km underground extension to Yashobhoomi Dwarka Sector 25.
DMRC invited bids for this small-value systems-work in December 2020 with an estimated cost of Rs. 7.71 crore and 12 month deadline. Technical bids were opened in February to reveal 4 bidders:
Longlasst inc.
River Engineering Pvt. Ltd.
RT Vision Technologies Pvt. Ltd.
Saini Electrical and Engineering Works
The other 3 bidders were disqualified during technical bid evaluation and their financial bids were not opened.
RT Vision Technologies' Bid: Rs. 6,93,72,034.46 (6.93 crore)
Package: CS52R
Brief Scope: Design, Manufacture, Supply, Installation, Testing and Commissioning of Full Height Platform Screen Doors at Dwarka Sector 25 Station of Extension of Airport Express Line Delhi MRTS project of Phase-III. (see detailed scope)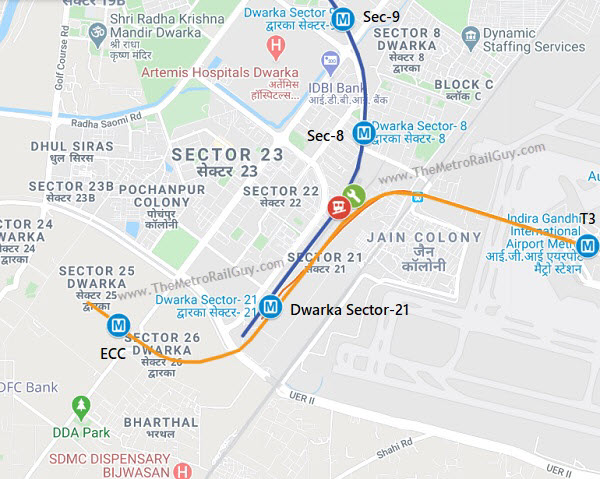 RT Vision's bid was well below DMRC's estimate and they should receive its contract in the coming weeks. Their website suggests they are a major signaling and telecom equipment supplier to the Indian Railways. They haven't supplied PSDs to any MRTS project, so this will be unchartered territory unless they've tied up with a partner.
Anyhow – this small extension, being built entirely by the cut and cover method, has been under construction by YFC – MBZ JV through Phase 3's Package CC-127 since January 2018 with a completion period of 30 months. An old image from inside the tunnel can be viewed here. At this time, I see this extension opening up no sooner than 2023.
For more updates, check out my Home Page!
– TMRG