Back on July 3, Tata Projects Ltd – China Civil Engineering Construction Corporation (TPL-CCECC) JV celebrated launching the final precast segment for Ahmedabad Metro Phase 1 project's 298.20m Sabarmati Bridge.
This crucial bridge on Ahmedabad Metro's 20.737 km Line-1 comprises of 8 piers with 7 spans ranging between 38.2m to 43.8m. Segment launching works for the first 41 meter span commenced in April following the completion of all piers within the river, which was quite challenging as a group of piles had gotten flooded in 2020.
Construction here is being carried out by TPL-CCECC JV as part of the 39.259 km Phase 1 project's 8.21 km Reach-2 which was awarded in January 2017 with a value of Rs. 721 crore.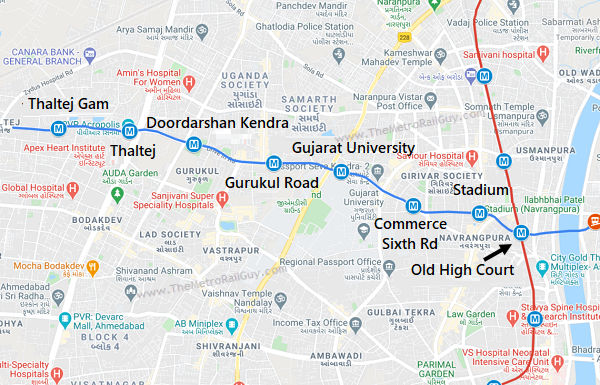 This bridge linking Old High Court Station and West Ramp will have an incline ever so slightly and be 14.209 meter tall at its highest point (Pier P244) and 11.693m at its lowest point (Pier P249). Within the river, it will be 263.60m long and comprise of 6 piers from Pier P244 (towards Thaltej Gam) to P249 (towards Vastral Gam).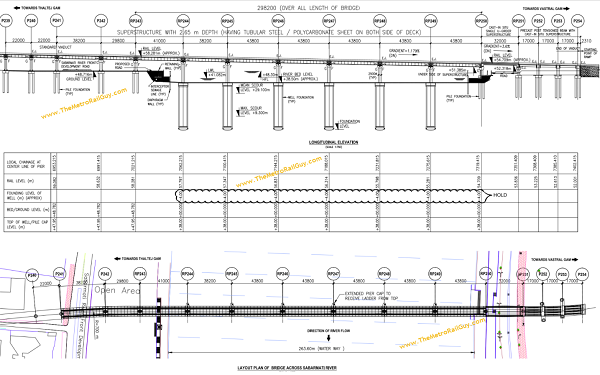 Wider segments used are 2.8m wide, while the narrower ones are 2.25m wide. More design design details can be viewed in this post from January 2021.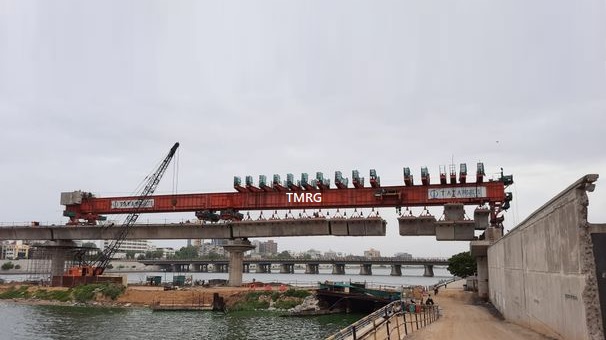 Nice sweeping views of the bridge uploaded on YouTube by a local vlogger in June-end:
This bridge is on the extreme eastern-end of Ahmedabad Metro's Reach-2 and I see trial runs starting here no sooner than 2023 due to major pending civil work on either side, especially the Old High Court Interchange Station.
On the extreme-west of Reach-2, TPL-CCECC is constructing a 165 meter long balanced cantilever (CLC) bridge at Thaltej – see older snaps from December 2020 and February 2021. Here are recent shots snapped in June-end by Tata Projects:
For more updates, check out the Ahmedabad section or my Home Page!
– TMRG
Subscribe to Free Email Notifications