August 6 Update: BMRCL awarded GR Infra with this section's construction contract with a value of Rs. 364.87 crore on August 3.
July 16 Original Post:
GR Infraprojects today emerged as the lowest bidder for completing construction work on the 7.501 km Dairy Circle Ramp – Kalena Agrahara section of Bangalore Metro's Pink Line after BMRCL opened financial bids for Package R6-CC-01BW.
A Rs. 578.70 crore contract for this section of the 73.92 km Phase 2 project was originally awarded in September 2017 to Simplex Infrastructures with a 27 month deadline. That contract was finally terminated in February 2021 for poor progress on key performance indicators over a period of at least 15 months, with BMRCL's newsletters indicating completion of 37% civil work.
BMRCL invited bids for this package in mid-March with a Rs. 339.21 crore estimate and 21 month deadline. Technical bids were opened in June to reveal 3 bidders and evaluation was completed on July 8.
Financial Bid Values:
| | |
| --- | --- |
| Firm | Bid (Rs. Crore) |
| GR Infraprojects | 364.87 |
| Afcons Infrastructure | 388.51 |
| ITD Cementation India | 393.05 |
Tender: BMRCL/Phase-2/Reach -6/Elevated/Via&Stn/RC/2021/75
Package: R6-CC-01BW
Brief Scope: Construction of Elevated Structures (Viaduct & Stations) of length 7.50 Km (approx.) from Gottigere to Swagath Road Cross (Chainage 00.00m to 7501.818m) including Kothanur Depot entry line, road widening & allied works and 5 numbers of metro stations viz. Gottigere, Hulimavi, IIMB, JP Nagar 4th Phase, Swagath Road Cross in Reach-6 line of Bangalore Metro Rail Project, Phase-2 (Balance Works)
This section's five stations on Bannerghatta Road are located at Kalena Agrahara (formerly Gottigere), Hulimavu, IIM-B, JP Nagar 4th Phase, and Tavarekere (formerly Swagath Road).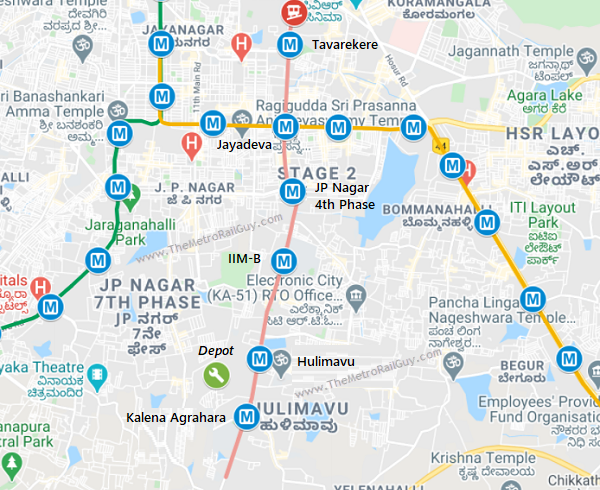 GR Infra has no experience in delivering metro projects, but they qualified through the technical round based on the parameters set. Their bid was 7.56% higher than BMRCL's budgeted estimate, but following negotiations they should go on to be awarded its contract unless BMRCL wants to retender this and consume more time.
With GR Infra possibly on board, they will need time to mobilize men and machinery (unlike ITD if they had won), and I see construction work resuming no sooner than Q4 2021 if a contract is awarded. Interesting times ahead.
As shared in the past – there's a long way to go for this line to become operational which I estimate would happen no sooner than mid-2024. Things may further get delayed as bidding for its systems (rolling stock, signaling system etc.) has still not started.
For more updates, check out the Bangalore Metro section or my Home Page!
– TMRG