Engineers from Gulermak – Tata Projects JV on Thursday celebrated tunnel boring machine S79's breakthrough at Budhwar Peth Station on Pune Metro's 16.589 km Line-1 (Purple Line).
This was S79's third (and final) breakthrough for the down-line tunnel, and the fifth breakthrough for Gulermak – TPL JV's 3.78 km Package UGC-01 and the entire 6.52 km underground section of the 31.254 km Pune Metro Phase 1 project.
Nicknamed Mula, this Ø6.61m Terratec EPB machine was commissioned in mid-March from Civil Court Station towards Budhwar Peth – a distance of 680 meters – and on the way excavated below Mutha's 150m wide river-bed which has an 80 meter-wide water channel.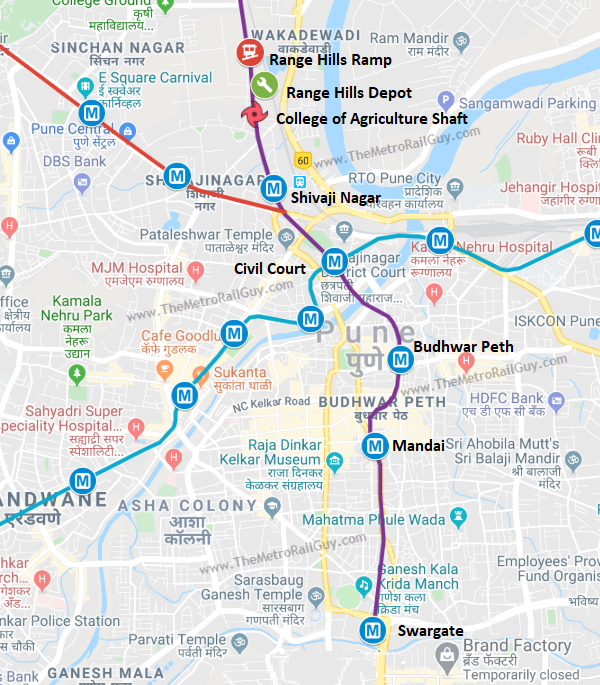 Some snaps via followers Biswajit Saha and Biswajeet Das: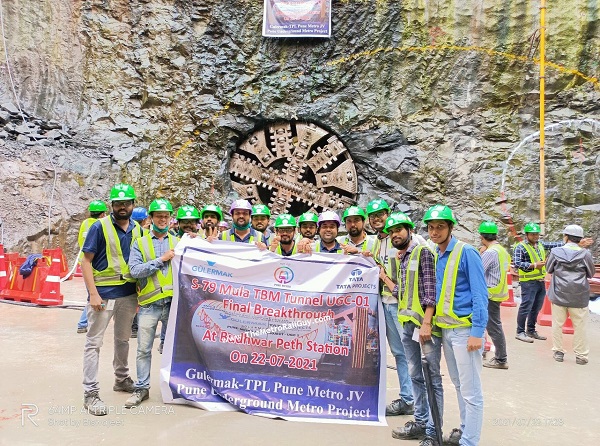 Video:
I hear TBM Mutha (S78) working on the parallel up-line tunnel for the same stretch (Civil Court to Budhwar Peth) has another 45-50 rings to build and should make its third breakthrough (6th overall) in another week's time.
Also hear that TBM S81 working on the Swargate to Budhwar Peth section's up-line tunnel has reached Mandai Station, but no confirmation on whether it has punched through its diaphragm wall yet or not. There's still no clarity on which TBM will build the parallel down-line tunnel for this section – whether it's S81 or S78. Stay tuned…
For more updates, check out the Pune Metro section or my Home Page!
– TMRG