The Commissioner of Metro Railway Safety (CMRS) on Tuesday started its 3-day statutory final safety inspection of Bangalore Metro's 7.5 km Mysore Road – Kengeri section which'll extend the Purple Line south-westward.
The CMRS led a 5 member team to inspect passenger amenities and control room facilities across all 6 six elevated stations along the route – see a detailed scheduled below.
In the coming days, the team will inspect the line's viaduct via a motor-trolley tour and installed systems (signaling, electrical, track), and finally participate in speed trials on Thursday where the line's BEML trains will clock speeds of 90 kmph.
This second section of the 73.92 km Bangalore Metro Phase 2 project will first connect Mysore Road with Kengeri through 6 new stations and later to Challaghatta Station in 2023 which lies across NICE Peripheral Road.
The 6 new stations are named Nayandahalli, Rajarajeshwari Nagar, Jnana Bharathi (formerly Bangalore University Cross), Pattanagere, Kengeri Bus Terminal (formerly Mailasandra) and Kengeri.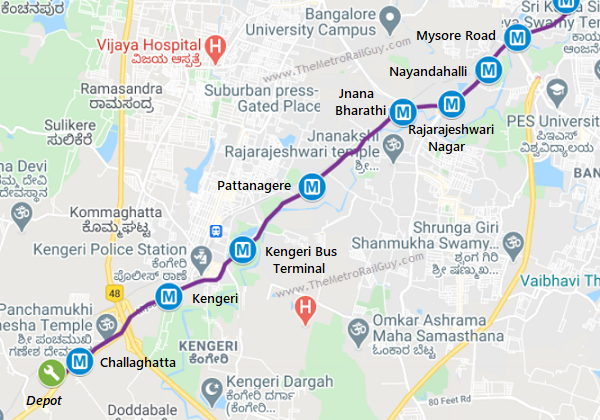 I'll add more images here when they become available.
August 10 Schedule
August 11 & 12 Schedule
Approvals from the CMRS are typically conditional in nature and CMRS' report should be submitted by early next week, so we'll have to wait and see what conditions are laid out for Bangalore Metro Rail Corporation Ltd. (BMRCL) to begin operations.
Recent videos and images from inside this section's stations can be viewed here (captured during BMRCL's MD's recent visit), here (Kengeri Station), and on Starworth – the architectural finishing contractor's Twitter page here. Older images shot in April – when trial runs started – can be viewed here.
Once this elevated section becomes operational, the existing 18.10 km Purple Line, connecting Baiyyappanahalli – Mysore Road, will become 25.60 km long and the entire Bangalore Metro network will become 55.60 km large – surpassing Chennai Metro's 54.10 km network to once again become the 3rd largest in India.
For more updates, check out the Bangalore section or my Home Page!
– TMRG