4 design & engineering consortia have submitted tenders for the General Consultant (GC) contract of Chennai Metro's Line 4 after Chennai Metro Rail Ltd. (CMRL) opened technical bids today.
This is a retender to provide GC services for the 26.09 km Line-4 which aims to connect Lighthouse – Poonamallee Bypass via Porur through 28 stations, 18 elevated and 10 underground, in the 118.9 km Chennai Metro Phase 2 project.
CMRL had originally invited EOI proposals in January 2020 and gone through the motions of the bidding process to shortlist 3 consortia in February 2021. The opening of financial bids was subsequently put on hold with the entire process getting scrapped in May-end after some of the 4 disqualified bidders were not happy with the result and evaluation parameters.
CMRL re-invited bids for the service in June with a 63 months (5.25 years) contract duration. Per the tender document, they hope to appoint a consultant by October 18 2021.
If someone is aware of all members in each consortia, then please drop a comment below or send me a message using the contact page.
Lead Bidders:
AECOM India
AYESA Ingenieria y Arquitectura, S.A.U
MM S.p.A
SYSTRA
Update – Here's a list with all members in each consortia
AECOM India – Oriental Consultants Global – Nippon Koei JV
AYESA Ingenieria y Arquitectura – Ayesa India – Korea Rail Network Authority JV
MM S.p.A – Mott Macdonald – Padeco JV
SYSTRA – Egis Rail – RITES JV
In the last round, AECOM and SYSTRA had bid together in a consortia but they've gone solo here. Ayesa had earlier bid in a JV with DB Engineering, KRNA and Dohwa Engineering, but am not sure if that's still the case. Similarly, MM SPA had earlier bid with Egis Rail, Italferr and Surbana Jurong.
Tender: CMRL-P2-GC-02-2021
Brief Scope: CMRL invites online tender through E-procurement bids on Quality-Cost Based Selection (QCBS) for the NIT No- CMRL-P2-GC-02-2021- "Selection of General Consultant (GC) for Chennai Metro Rail Phase 2 Project – Corridor 4 and part of Corridor-3&5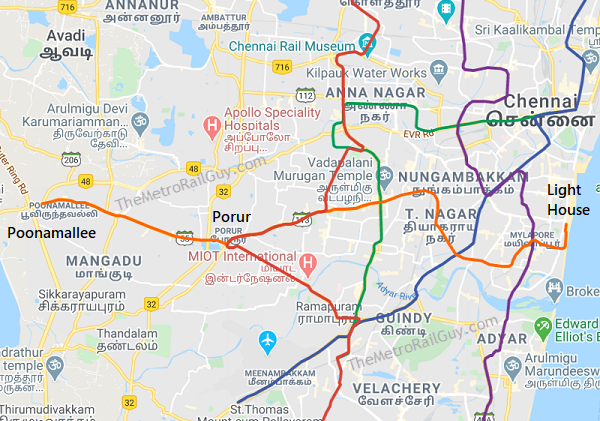 The GC will be selected on the Quality and Cost Based System (QCBS) method in which the winner's selection is made through a combination of points scored after technical bid (70% weight) and financial bid (30% weight) evaluation.
This consultancy service will be financed by the Asian Infrastructure Investment Bank (AIIB). In December 2019, AIIB approved a concept proposal to lend USD 356.65 million (approx. Rs. 2700 crore) to finance a part of Line-4's construction including support and technical assistance required by CMRL.
For more updates, check out the Chennai section or my Home Page!
– TMRG