Chennai Metro Rail Ltd (CMRL) on Wednesday officially cancelled the Request for Proposal (RFP) tendering process to appoint a General Consultant for Chennai Metro's Line-4.
Chennai's new 26.09 km east-west Line-4 of the 118.9 km Chennai Metro Phase 2 project will connect Lighthouse with Poonamallee Bypass via Porur through 28 stations – 18 elevated and 10 underground.
CMRL had invited EOI proposals in January 2020, received 9 proposals in June 2020, shortlisted and invited bids from 7 consortia in August 2020, received 7 bids in November 2020, and then shortlisted 3 consortia to the final financial bid opening stage in February 2021.
The official reason for canceling they've provided is: "Due to administrative reasons, the current RFP for Selection of General Consultant (GC) for Chennai Metro Rail Phase 2 Project – Corridor 4 is cancelled"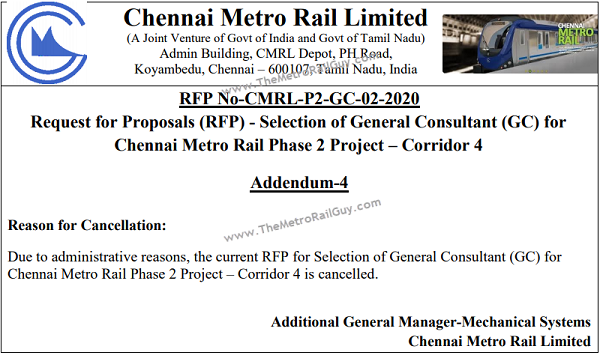 CMRL was hoping to appoint a General Consultant by February-end with an objective to assist CMRL with design, supervision, safety, quality control and contract management.
CMRL couldn't move to the financial bid opening stage as some of the 4 disqualified bidders, which included the likes of Rodic & DB Engineering, were not happy with the result and evaluation parameters. Subsequent meetings and possible negotiations over the past couple months failed to produce any result.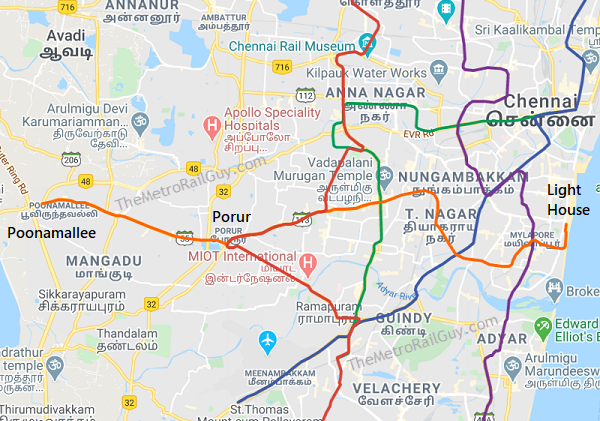 Back in 2019, a consortium of Nippon Koei – Aarvee – Balaji was awarded Line-3 & Line-5's GC contract.
Line-4's consultancy service and its two elevated packages (details below) will be financed by the Asian Infrastructure Investment Bank (AIIB) through a USD 356.65 million (approx. Rs. 2700 crore) loan.
The appointment of a GC is necessary for a large-scale project like this, so I'm expecting a new notice to be published in the coming weeks. I'm not sure if CMRL will start afresh or re-issue a RFP to the previously shortlisted 7 consortia. Most likely it will be the former, but we'll have to wait and see how this plays out. Until a GC is appointed, L&T and HCC-KEC JV will be partially flying blind when construction begins in Q3 this year.
For more updates, check out my Home Page!
– TMRG