Three global consortia have qualified for Chennai Metro Line-4's General Consultant (GC) contract after Chennai Metro Rail Ltd. (CMRL) completed technical bid evaluation on Monday.
Chennai's new 26.09 km east-west Line-4 of the 118.9 km Chennai Metro Phase 2 project will connect Lighthouse with Poonamallee Bypass via Porur through 30 stations – 18 elevated and 12 underground.
CMRL had invited EOI proposals in January 2020, received 9 proposals in June 2020, shortlisted and invited bids from 7 consortia in August 2020, and then received 7 bids in November 2020.
Qualified Bidders
JV of AECOM Asia Company Ltd., SYSTRA and Consulting Engineers Group (CEG) Ltd.
JV of Egis Rail SA, MM SPA, Italferr SPA and Surbano Jurong Infrastructure Pte Ltd
JV of Louis Berger SAS, Geodata Engineering SpA and Hill International Inc
Disqualified Bidders
JV of TPF Getinsa Eurostudios S.L, Artelia SAS & Rodic Consultants Pvt. Ltd.
JV of RITES Ltd, Nippon Koei India Pvt. Ltd, Nippon Koei Co. Ltd, Arup India Pvt. Ltd and Ove Arup & Partners International Ltd.
JV of DB Engineering & Consulting GmbH, Ayesa Ingeniería y Arquitectura, S.A.U, Korea Rail Network Authority and Dohwa Engineering Co. Ltd
JV of RINA Consulting SPA and Yuksel Proje Uluslararasi A.S
The GC's assignment is being made with an objective to assist CMRL with design, supervision, safety, quality control and contract management. Back in 2019, a consortium of Nippon Koei – Aarvee – Balaji was awarded Line-3 & Line-5's GC contract.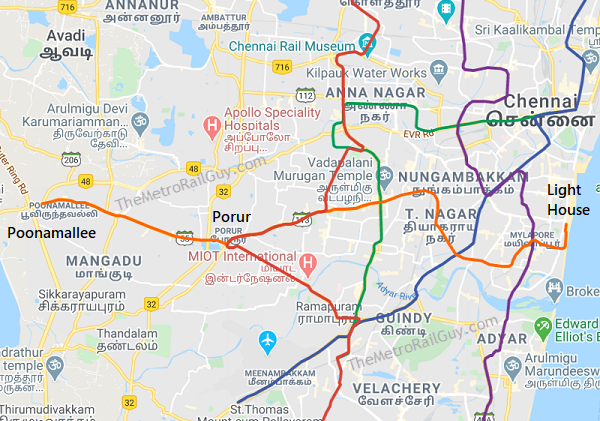 The GC's selection is planned to be made on the Quality cum Cost Basis System (QCBS) method, with the winner scoring the highest points in Technical and Financial evaluation combined together.
Financial bids are planned to be opened on February 8, so stay tuned to find out its winner! Feb 8 Update: CMRL has postponed financial bid opening. New date has not been announced.
This consultancy service and the line's 2 elevated packages (details below) will be financed by the Asian Infrastructure Investment Bank (AIIB). In December 2019, AIIB approved a concept proposal to lend USD 356.65 million (approx. Rs. 2700 crore) to finance a part of its construction including support and technical assistance required by CMRL.
Tender notice(s) are still pending for Line-4's 10.07 km underground section connecting Light House with Meenakshi College. That section with at least 2 packages will be financed by the Asian Development Bank (ADB). Per ADB's project sheet – their team conducted a fact-finding tour from 7 December 2020 to 27 January 2021. They plan to place the project for the bank's board's approval on March 2, 2021.
For more updates, check out my Home Page!
– TMRG
Subscribe to Free Email Notifications