February 14, 2022 Update: Afcons Infrastructure – Sam India JV is lowest bidder (L1) – see details and bid values.
October 15, 2021 Update: 8 construction firms (4 in a consortium with others) have submitted bids for constructing Kanpur Metro Phase 1's second underground section (package KNPCC-06) between Nayaganj Station and Transport Nagar Ramp.
I estimate this section of the 23.785 km Line-1 (IIT – Naubasta) with 3 underground stations at Kanpur Central, Jhakarkatti and Transport Nagar to be approximately 4.65 km long. It will consist of 6 tunnel boring machine (TBM) bored tunnels for which a minimum of two machines will be deployed.
Uttar Pradesh Metro Rail Corporation (UPMRC) invited tenders for its construction in June 2021 with a 36 month deadline and Rs. 1250 crore estimate. Technical bids were opened on Thursday.
Bidders:
Afcons Infrastructure – SAM India JV
Dineshchandra R Agrawal Infracon – Hindustan Construction Company Joint Venture (DRA – HCC JV)
Gulermak Agir Sanayi Insaat ve Taahh. A.S.
ITD Cementation India
J. Kumar Infraprojects – NCC JV
JMC Projects India – CAI JV
Larsen and Toubro (L&T)
Tata Projects Ltd (TPL)
Package: KNPCC-06
Brief Scope: Design and construction of TBM tunnel, cut and cover tunnel, underground ramp from Kanpur Central end of Nayaganj station to elevated ramp after Transport Nagar and three underground metro stations (viz. Kanpur Central, Jhakarkatti and Transport Nagar) including architectural finishes, E and M, TVS, ECS etc. on Corridor-1 of Kanpur MRTS Project at Kanpur, Uttar Pradesh, India.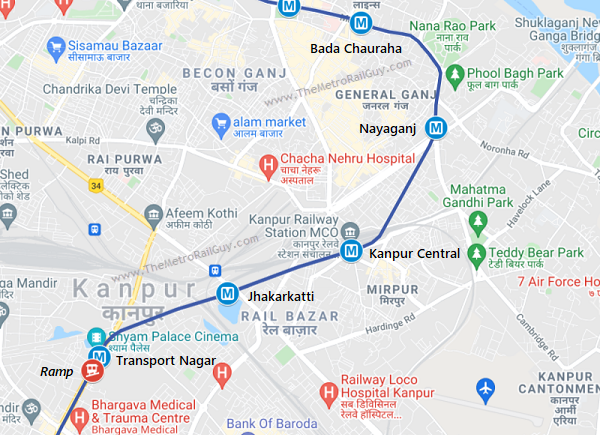 This is easily the highest participation for a metro package in recent times. Prior to this, Delhi Metro's DC-08 saw 7 bidders.
Anyhow, all 8 bids have now been sent for technical evaluation which can take a couple months to complete. When that is done, the financial bids of the technically qualified bidders will be opened to reveal who's the lowest bidder and most likely contractor.
This contract will be financed by the European Investment Bank (EIB) through a €650 million (approx. Rs. 5661 crore) loan approved in July 2020.
Kanpur Metro Line-1's underground section (Permat Ramp – Tranport Nagar Ramp) is approximately 8.621 km long with 7 stations en route. Earlier this week, Gulermak – Sam India JV working on the first underground section (Permat Ramp – Nayaganj) started casting tunnel ring segments and lowered Naveen Market Station's D-wall's first rebar cage.
For more updates, check out the Kanpur section or my Home Page!
– TMRG