The Commissioner of Metro Rail Safety (CMRS) on November 16 morning will inspect Delhi Metro's 58.596 Pink Line (Majlis Park – Shiv Vihar) for starting unattended train operations (UTO) locally known as "driverless" operations.
India's Prime Minister had flagged off similar services on the Phase 3 project's 38.235 km Magenta Line in December 2020 with Nippon Signal's SPARCS communications-based train control (CBTC) solution.
After the Pink Line's 1.38 km Trilokpuri section finally opened up in August, the Delhi Metro Rail Corporation (DMRC), Bombardier Transportation (signaling vendor) and SYSTRA MVA (RS10's UTO Consultant) started working on deploying a similar driverless train operation plan.
Inspection Schedule
The inspection will last 5 hours with a train moving from Majlis Park to Maujpur and back through 38 metro stations. Side-note: I love how they've incorporated two chai sessions.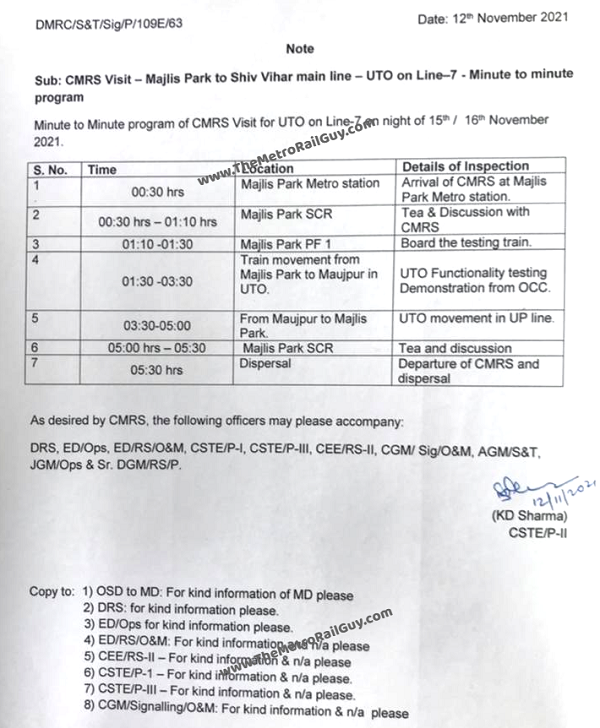 The Pink Line's Hyundai Rotem – BEML trains are designed to support UTO with a grade of automation (GoA) level 4, but the Delhi Metro Rail Corporation (DMRC) had until now been operating them semi-automatically at GoA 2, like all other lines (barring Magenta Line) on the 349 km network. This involves a train operator performing crucial activities such as monitoring trackside conditions and triggering door closure and train departure.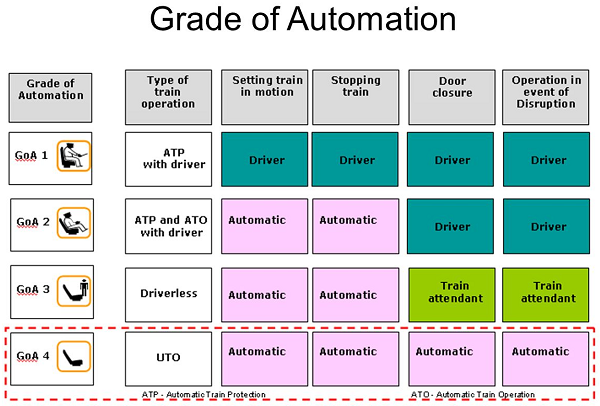 Even after going "driverless", I'm expecting a train operator (roving attendant) to still be present within the train in case of emergencies or other types of failures. DMRC hasn't revealed their game plan yet, but if that's the case then operations would be at GoA3 and not truly UTO at GoA4 (see illustration above).
For more updates, check out the Delhi section or my Home Page!
– TMRG