India's Prime Minister Narendra Modi today inaugurated two sections totaling 10.35 km of Pune Metro's Phase 1 project – officially making it India's 15th operational metro system.
The Prime Minister had laid the 31.254 km project's foundation stone in December 2016. This afternoon, he flagged off the first train and then took a ride on the Aqua Line from Garware College Station to Anand Nagar Station.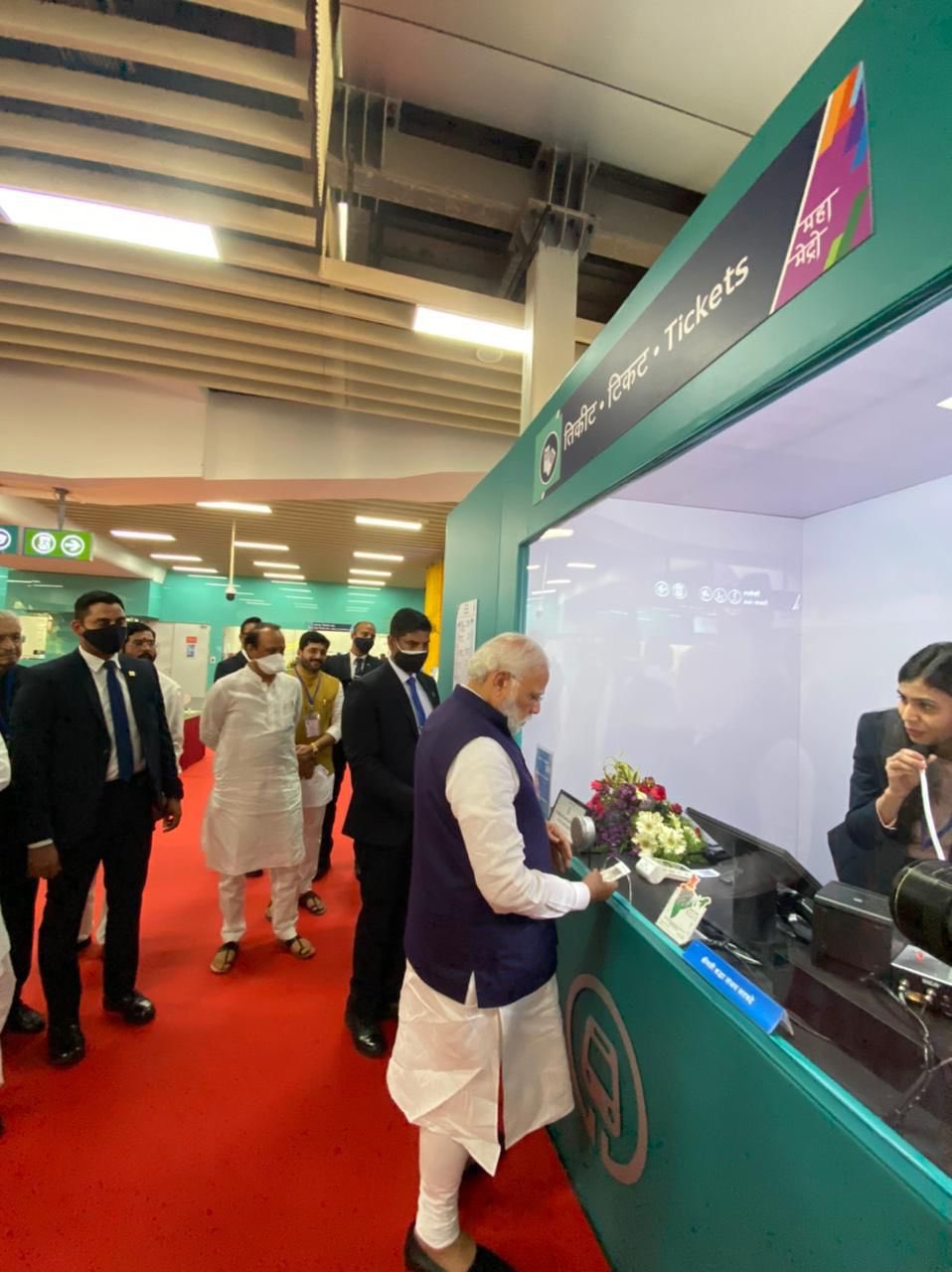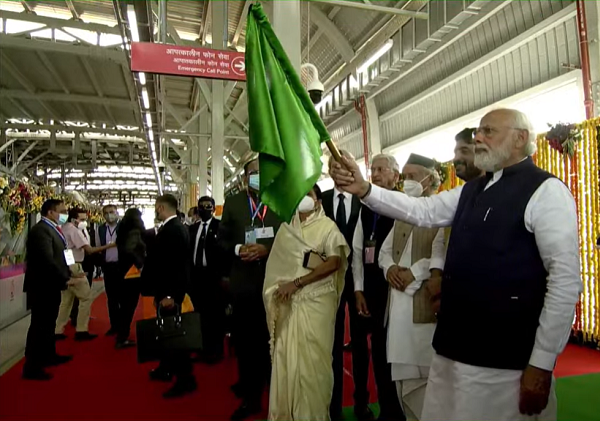 On the 16.59 km Purple Line (PCMC – Swargate), MahaMetro will start operations on its 6 km Priority Section between PCMC – Phugewadi with 5 elevated stations at PCMC, Tukaram Nagar, Bhosari, Kasarwadi, Phugewadi.
On the 14.665 km Aqua Line (Vanaz – Ramwadi), MahaMetro will first start operations on its 4.35 km Priority Section between Vanaz – Garware College with 5 stations at Vanaz, Anand Nagar, Ideal Colony, Nal Stop and Garware College.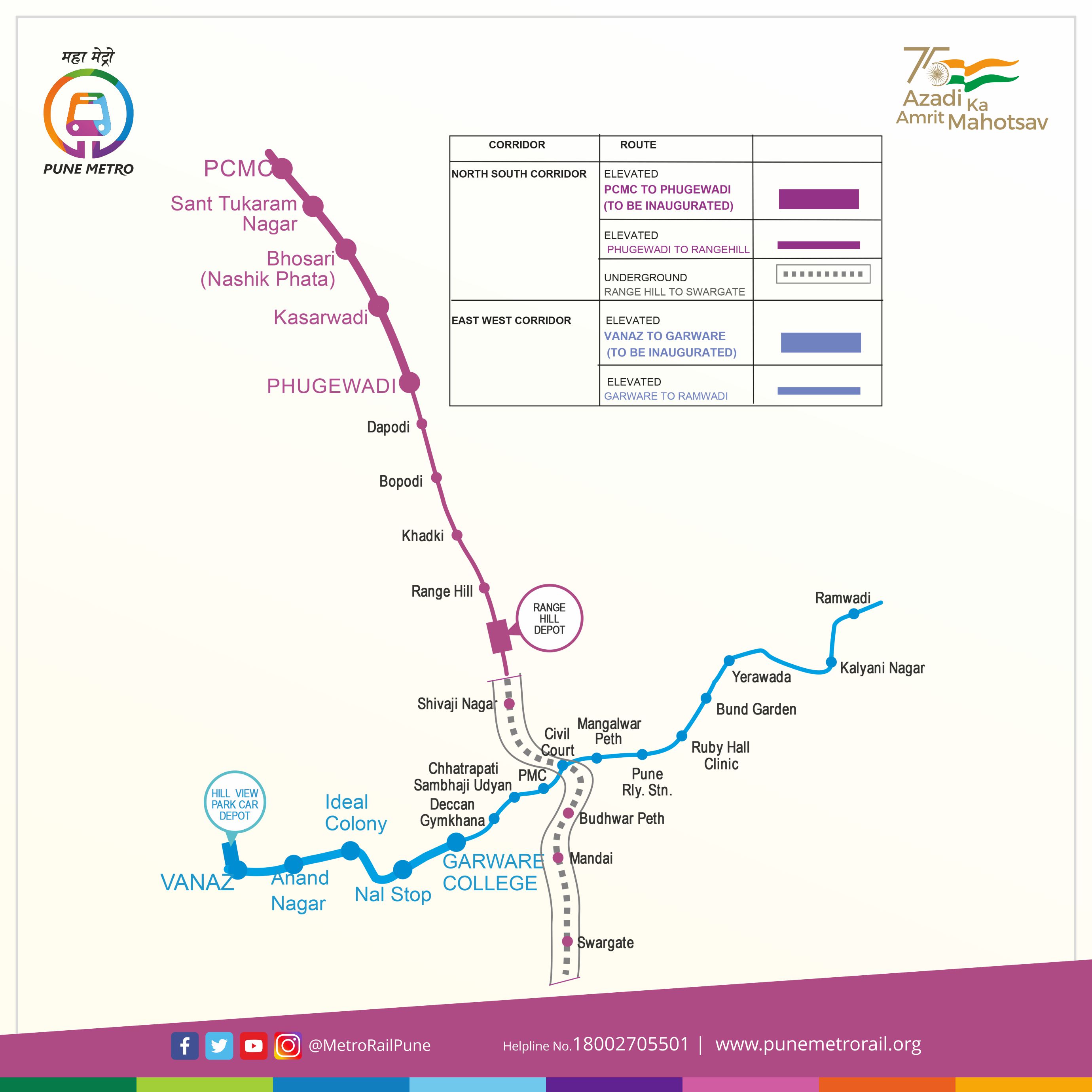 Both sections' viaducts were built by NCC Ltd. through two contracts valued at Rs. 499.01 crore and Rs. 363.70 crore awarded in 2017. The stations en-route were built by HCC – Al Fara'a JV and are 140m long which are capable of handling up to 6 coaches.
On the systems-side, Alstom Transport delivered the project's OHE Electrification system, while Sterling & Wilson Pvt. Ltd delivered its 33 KV cable network, ASS & SCADA system. A full list of contractors can be viewed here.
Drone video of Aqua Line:
Commercial operations will begin today at 3 PM with 30 minute headways between successive trains due to construction and train delivery delays.
On the Purple Line, the PCMC – Phugewadi section is still not connected to its Range Hills train maintenance depot due to construction delays and will be serviced by two CRRC trains borrowed from Nagpur Metro. On the Vanaz – Garware College route, MahaMetro will operate a mix of CRRC and Titagarh Firema trainsets out of Kothrud Depot.
Starting tomorrow, trains will operate between 8 am – 9 PM. The system's ticketing fare-chart can be viewed here which seems reasonable. The first 6 months or so will mostly have joy-riders, so it'll be interesting to see how the line performs in 2023 when ridership stabilizes. Cheers!
For more updates, check out the Pune Metro section or my Home Page! Sign up for free instant email notifications on new posts over here. Like this post? See how you can get early-access to updates and support the site over here.
– TMRG