Gujarat Metro Rail Corporation (GMRC) on Friday launched train testing on a 10.2 km section between Apparel Park and Gujarat University stations on Ahmedabad Metro Phase 1's 20.737 km east-west Blue Line.
With electrification work still ongoing, GMRC's team operated a Zephir battery-operated railcar mover to pull one of its Hyundai Rotem trains through the line's 6.83 km Shahpur – Kankaria East underground tunnels (built by L&T and Afcons Infra) and out of the West Ramp to the 298.20m Sabarmati River Bridge (built by TPL – CCECC).
GMRC's primary goal was to check for Schedule of Dimensions (SOD) clearances and observe the train's interaction with the civil structure to ensure there are no physical obstructions along the way.
Operations on the Blue Line's 6 km Vastral – Apparel Park section had started on March 6, 2019. This is the first time a train has traveled west of Apprarel Park, underneath the old city, over the Sabarmati and across to West Ahmedabad.
Along the way, the train passed through 8 stations at Kankaria East, Kalupur Railway Station, Gheekanta, Shahpur, Old High Court Interchange, Stadium, Commerce Six Roads and Gujarat University.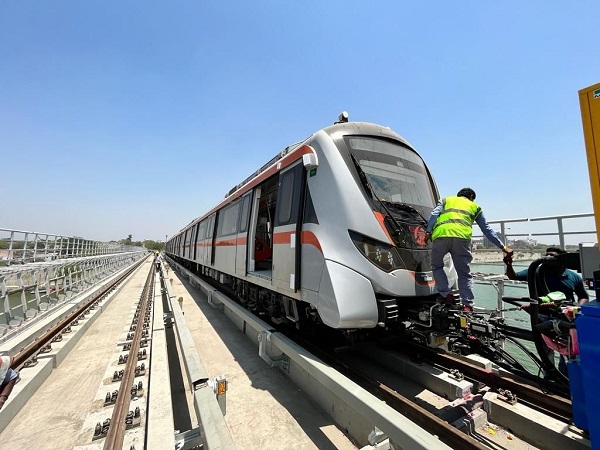 Video by a local YouTuber shot at Sabarmati Riverfront:
There's immense pressure on GMRC to begin operations on the entire 39.26 km Phase 1 project by India's 75th Independence Day, so we'll likely see trains starting to run on the rest of the network in / around that time with station finishing works being conducted well into 2023.
For more updates, check out the Ahmedabad section or my Home Page! Sign up for free instant email notifications on new posts over here. Like this post? See how you can get early-access to updates and support the site over here.
– TMRG