JMC Projects today emerged as the lowest bidder to construct Kanpur Metro Phase 1's second elevated section (Package KNPCC07) between Transport Nagar Ramp – Naubasta Station.
This 5.427 km section on the eastern-end of the 23.785 km Line-1 (IIT Kanpur – Naubasta) consists of 5 elevated stations at Baradevi, Kidwai Nagar, Vasant Vihar, Baudh Nagar and Naubasta.
Uttar Pradesh Metro Rail Corporation (UPMRC) invited tenders for its construction contract in August 2021 with an estimate of Rs. 526 crore and completion deadline of 30 months. Technical bids were opened in December 2021 to reveal 11 bidders. RVNL was disqualified as their bid was was found non-compliant to the tender conditions.
Financial Bid Values
| | |
| --- | --- |
| Firm | Bid (Rs. Crore) |
| JMC Projects India Ltd. | 514.61 |
| Dilip Buildcon Ltd. (DBL) | 547.59 |
| Sadbhav Engineering Ltd. | 558.28 |
| Afcons Infrastructure Ltd. | 570.09 |
| NCC Ltd. | 599.72 |
| Montecarlo Ltd. – Ranjit Buildcon JV | 606.60 |
| GR Infraprojects Ltd. (GRIL) | 616.09 |
| KEC International – YFC Projects JV | 619.25 |
| Tata Projects Ltd. (TPL) | 630.67 |
| Larsen & Toubro Ltd. (L&T) | 674.99 |
This contract will be funded by the European Investment Bank (EIB) through a €650 million (approx. Rs. 5600 crore) loan approved in July 2020.
Package: KNPCC-07
Brief Scope: Construction of elevated viaduct and 5 Nos. elevated station (viz. Baradevi Station, Kidwai Nagar Station, Vasant Vihar Station, Baudh Nagar Station & Naubasta Station) including Architectural Finishing, E&M work and special span from end of ramp (after Transport Nagar Station) to Naubasta Station on Corridor-1 of Kanpur MRTS Project at Kanpur, Uttar Pradesh, India. Scope of work is between Chainage 17420 m to 22847 m (including 5 stations) on Corridor-1, of Kanpur Metro at Kanpur, Uttar Pradesh, India.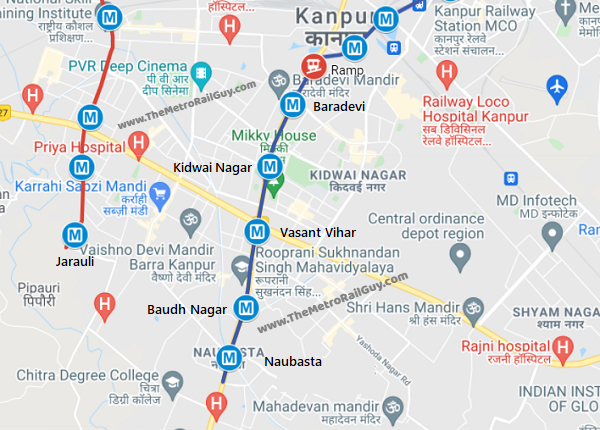 UPMRC has renamed 3 of the stations. In the past, Baradevi Station was referred to as Rania Station, Kidwai Nagar Station as Kendranchal Station, and Vasant Vihar Station as Pashupati Nagar Station.
JMC's bid of Rs. 514.61 crore was well below UPMRC's estimate of Rs. 526 crore, so I see a contract getting awarded in the coming weeks without a lengthy financial bid evaluation period.
Back in 2020, Techpro Engineers had carried out geotechnical soil investigation works along this section's route – see details & images. This is the 4th and final section of Line-1 to be tendered out – a list of all Phase 1 packages and their contractors can be viewed here.
For more updates, check out the Kanpur section or my Home Page! Sign up for free instant email notifications on new posts over here. Like this post? See how you can get early-access to updates and support the site over here.
– TMRG