Dilip Buildcon Ltd. (DBL) on Thursday was declared as the lowest bidder for the construction contract of Ahmedabad Metro Phase 2 project's 7.553 km Package C3 connecting Sector-1 – Mahatma Mandir in Gandhinagar.
This is the 3rd and final section of this 28.254 km phase which will see Ahmedabad's north-south Red Line getting extended by 22.838 km from Motera Stadium to Mahatma Mandir via 20 new stations with a 5.416 km spur from GNLU to GIFT City which includes 2 new stations.
Gujarat Metro Rail Corporation (GMRC) had invited tenders for its civil construction contract in February 2022 with a Rs. 610 crore estimate. Its completion period remains unknown to me but is likely to be 30 months looking at packages C1 and C2.
Technical bids were opened in May to reveal 10 bidders.
Financial Bid Values (Lowest 5)
| | |
| --- | --- |
| Firm | Bid (Rs. Crore) |
| Dilip Buildcon Ltd. (DBL) | 723.45 |
| JMC Projects | 728.82 |
| Kalthia – Ashoka Buildcon Ltd JV | 747.01 |
| Ranjit Buildcon Ltd. (RBL) | 781.28 |
| GR Infraprojects (GRIL) | 797.14 |
IFB: GMRC/CONS/VDCT+STNS/PKG-C3/PH-2/2022
Package: C3
Brief Scope: Construction of 7.553 kms elevated viaduct and 7 nos. of stations (incl. E&M, Architectural Finishing, Roofing, Plumbing, Signage, etc.) from Sector-1 to Mahatma Mandir (ch. 31945.443m to 39498.302m, Package C3) in connection with Ahmedabad Metro Rail Project, Phase-2
This section will consist of 7 elevated stations at Sachivalaya, Akshardham, Juna Sachivalaya, Sector-16, Sector-24 and Mahatma Mandir.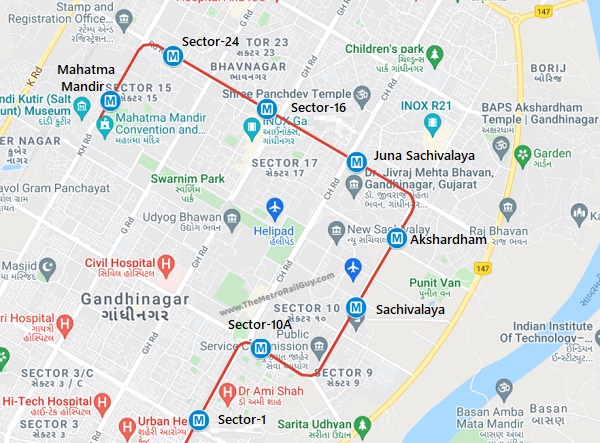 DBL's bid Rs. 723.45 crore was 18.59% higher than GMRC's estimate, so this will definitely head towards the negotiation table for contract finalization.
This section's design was prepared by SYSTRA MVA Consulting (India) as the DDC and its construction will be financed by Agence Française de Développement (AFD). A list of all Phase 2 packages (consultant, civil, system) and their contractors can be viewed here.
In other news, the rest (32 km) of Ahmedabad Metro's 39.26 Phase 1 was inaugurated today by Prime Minister Modi. See images here, here and here.
For more updates, check out the Ahmedabad section or my Home Page! Sign up for free instant email notifications on new posts over here. Like this post? Get early-access to updates and support the site over here.
– TMRG