Alstom Transport India has announced the completion of signalling & electrification works for Bangalore Metro's 15.257 km Reach 1A & Reach 1B (Baiyyappanahalli – Whitefield) extension of the Purple Line.
This development now allows Bengaluru Metro Rail Corporation Limited (BMRCL) to begin full-fledged dynamic train testing on this extension which I expect will open in mid-2023.
This milestone's scope of course excludes the roughly 2.25 km Byappanhalli – Benniganahalli (Tin Factory) – KR Puram section where civil construction work is still underway – see details at the bottom.
Bangalore Metro's Whitefield extension is the longest extension of Phase 1 lines in the 73.92 km Bangalore Metro Phase 2 project. In September 2022, Texmaco Rail and Engineering in September had completed casting all 24 track turnouts for it.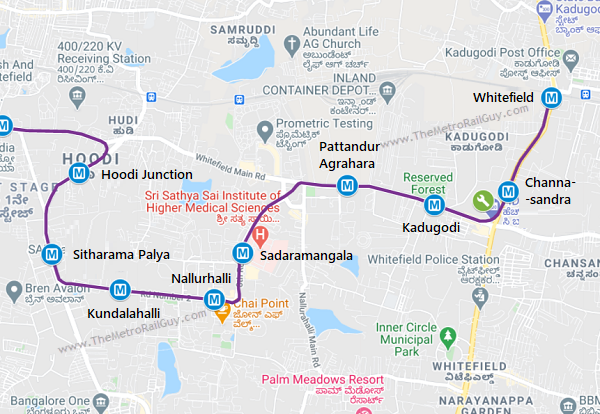 Back in October, BMRCL had started basic trial runs from Whitefield metro station to Pattandur Agrahara metro station – a distance of 3.5 kms. Since then, they've slowly been extending testing to the line's western portions with a primary goal to check for Schedule of Dimension (SoD) clearances.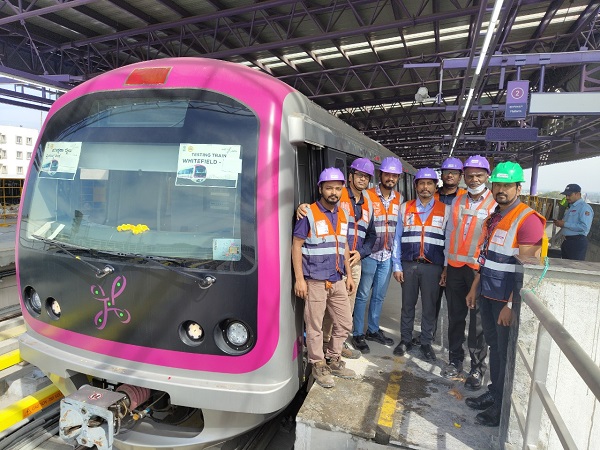 The line's 2.25 km Byappanhalli – Benniganahalli (Tin Factory) – KR Puram has gone through several design changes and affected by land acquisition hurdles.
ITD Cementation India today (Friday) was going to complete launching a 65m Open Web Girder (OWG) over the Indian Railways' lines at Benniganahalli, but that has postponed.
Per a BMRCL official who spoke with Christin Mathew Philip at TOI, "This is due to the delay in installation of large no. of HSFG bolts & tightening them to design torque. Hence, the launching of OWG is postponed by few days".
A cool drone view of the OWG posted by BMRCL can be viewed here.
As far as Whitefield metro line's opening goes, I'm still looking at a mid-2023 opening. BMRCL has so far transported only one train-set, by road, to the under construction Kadugodi Depot where progress stands at 72.64% according to BMRCL's December 2022 newsletter.
The depot has major civil and systems installation work pending which makes me believe BMRCL will start operations between KR Puram – Whitefield only after end-to-end civil and track-work on the entire extension is completed. This will allow them to feed trains trains from Byappanhalli Depot.
For more updates, check out the Bangalore section or my Home Page! Sign up for free instant email notifications on new posts over here. Like this post? Get early-access to updates and support the site over here.
– TMRG