Maharashtra's Urban Development Department last week decided to hand over the execution of Mumbai Metro's Line-11 (Green Line) to Mumbai Metro Rail Corporation (MMRC) given their experience of handling 33.5 km Line-3 (Aqua Line)'s construction.
This 12.774 km long line with 10 stations will extend Mumbai Metro's 32.32 km Line-4 southward from Bhakti Park in Wadala to Chhattrapati Shivaji Maharaj Terminus (CSMT). Up until a formal handover is completed, it will continue to be under the purview of the Mumbai Metropolitan Region Development Authority (MMRDA).
Per Line-11's Detailed Project Report (view DPR's PDF) prepared by Delhi Metro Rail Corporation in 2018, it will consist of a 8.765 km underground section with 8 underground stations flanking Mumbai's eastern seaboard on and along land under the Mumbai Port Authority's jurisdiction.
The 10 stations (including 2 elevated) en route are proposed to be built at Wadala RTO (elevated), Ganesh Nagar (elevated), BPT Hospital, Sewri, Hay Bunder, Coal Bunder, Darukhana, Wadi Bunder, Clock Tower, Carnac Tower and CSMT (new station box to provide an interchange with Line-3).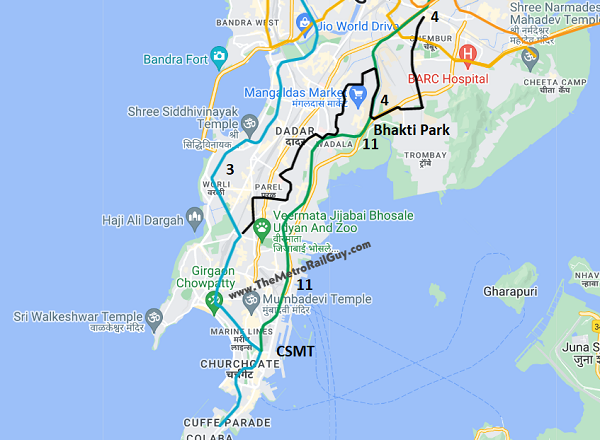 The Urban Development Deparment's website has been unavailable for a couple days, so here's a copy of the order, in Marathi, shared by Chandrashekhar Dhage on Twitter: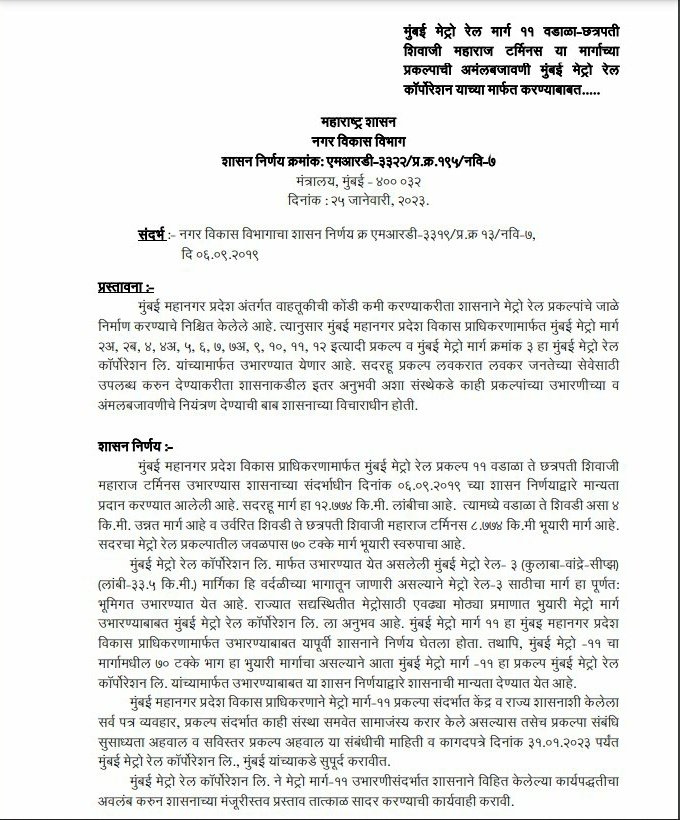 There's a long way to go – easily another 2 years I'd say – before construction work begins.
The prior DPR had estimated Line-11 to cost Rs. 8739 crore, which will have to be revised to account for current prices and then approved by the state government. Other necessary steps include securing financing, preparing detailed designs, appointing a General Consultant and conducting the civil tendering process.
During the approval process, I hope MMRC and the government consider extending the line further south to Flora Fountain (Fort) and Colaba Causeway Market to increase the line's utility.
After the completion of Line-11, the city's Green Line will become roughly 57.11 km long connecting Shivaji Chowk (Mira Road) – Gaimukh – Kasarawadavali – Wadala – CST through 48 stations. This includes 32.32 km Line-4, 2.88 km Line-4A, 9.209 km Line-10 and 12.744 km Line-11. Detailed information on each can be viewed here.
For more updates, check out the Mumbai section or my Home Page! Sign up for free instant email notifications on new posts over here. Like this post? Get early-access to updates and support the site over here.
– TMRG