Three design & engineering firms have submitted bids for the Detailed Design Consultant contract GGNCCDD-15(R1) of Gurgaon Metro's 28.5 km line connecting HUDA City Centre and Cyber City.
This elevated new corridor by Haryana Mass Rapid Transport Corporation Ltd (HMRTC) will form a ring line through Gurugram and Old Gurugram via 27 stations. Haryana Government's cabinet had approved the project's final Detailed Project Report (DPR) in August 2020 at an estimated cost of Rs. 6821.13 crore.
This is a contract re-tender. Back in August 2022, Egis Rail S.A. had emerged as the only bidder in its first round and subsequently the tender was cancelled for poor participation.
HMRTC re-invited bids in March 2023 with a Rs. 17.68 crore estimate and 48 month completion deadline. Technical bids were opened this afternoon.
Bidders
Egis Rail
STUP Consultants
Spectrum Techno Consultants (apparently in a JV with Tandon Consultants and Fountainhead Architects per the comments section)
Brief Scope: Detail Design Consultant DDC for Civil Architectural and E and M works of Elevated Section 28 KM 500 m having 27 Stations Main Corridor from HUDA City Centre to Cyber City Gurgaon of Gurgaon Metro Project and also inclusive of Depot connection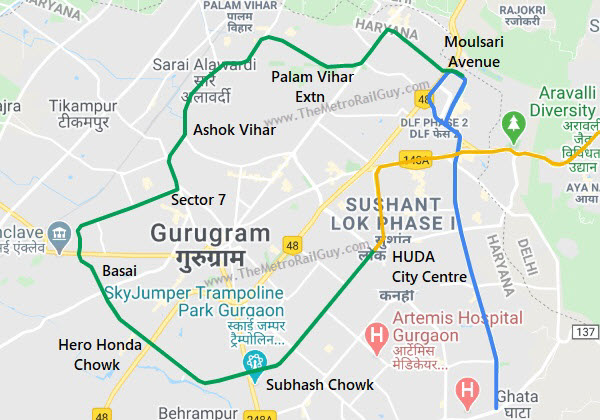 Spectrum's bid was submitted in their Managing Director Umesh Rajeshirke's name, which was strange. Last month, a random guy had similarly submitted a bid for Kochi Metro Phase 2's Detailed Design Consultant contract.
Anyhow, if HMRTC is satisfied with the participation in this round, then all 3 bids will undergo technical evaluation which can take a couple months to complete. When that is done, the financial bids of the technically qualified bidders will be opened to reveal who's the lowest bidder and most likely design consultant.
The contract's scope indicates a 1.85 km spur will be built from Basai Village towards the under construction Dwarka Expressway.
Besides an interchange with the Delhi Metro's Yellow Line and Gurgaon's Rapid Metro, this line will likely have an interchange with the 106 km Delhi – SNB RAPIDX (RRTS) line at Udyog Vihar.
For more updates, check out the Gurgaon section or my Home Page! Sign up for free instant email notifications on new posts over here. Like this post? Get early-access to updates and support the site over here.
– TMRG