YFC Projects – Montecarlo JV on Monday erected their first 10m wide pier cap for Package PC-04 of Patna Metro's 16.86 km Line-1 connecting Danapur Cantonment – Khemni Chak.
This elevated package of Patna Metro's Phase 1 project consists of 7 stations on either side of Line-1. YFC-MCL JV recorded this major package level milestone in Mithapur neighborhood using a 70 ton pier cap at Pier P-115.
Delhi Metro Rail Corporation (DMRC) had awarded YFC-MCL JV with a Rs. 553.50 crore contract in December 2021 with a 36 month deadline.
YFC-MCL's package consists of two disjointed elevated sections. The first – a roughly 4 km section will connect Danapur with Patliputra Ramp with 4 stations at Danapur, Saguna More, RPS More and Patliputra.
The second section – another roughly 4 km section – connecting Mithapur Ramp with Khemni Chak Station will allow users to switch over to the 14.05 km Line-2 (Patna Junction Railway Station – New ISBT). It consists of 3 stations at Mithapur, Ramkrishna Nagar and Jaganpura.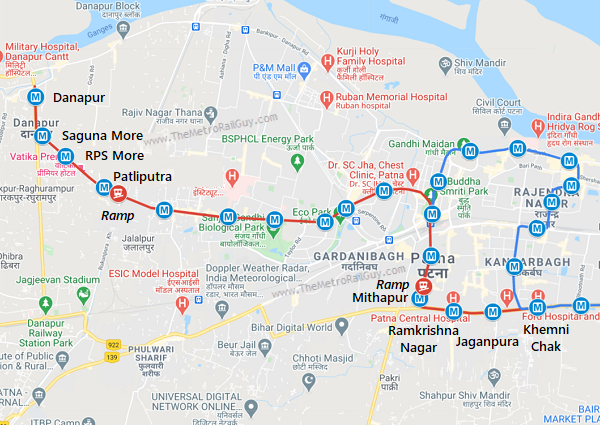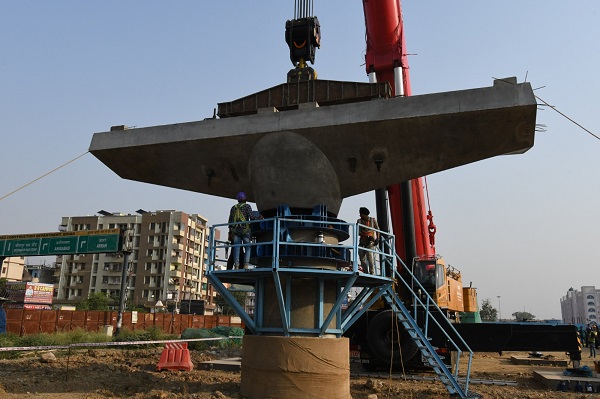 This milestone was recorded in roughly 17 months from the award of contract, which is way beyond the average time taken by contractors.
Site conditions vary vastly across the country, but for comparison with other ongoing projects – SNC in Bengaluru took 12 months for the ORR Line's 1st pier cap, Sam India – Gulermak JV in Delhi took 10 months for Magenta Line's extension, while JMC Projects recently took just 6 months for Kanpur Metro's 2nd elevated section.
This is way better than NCC working on Patna Metro's Line-2 though which took roughly 26 months from the award of PC-01's contract in September 2020.
Tender notice(s) are still pending for Patna Metro Line-1's roughly 8 km underground section between Patlipura Ramp and Mithapur Ramp. That section will comprise of 6 stations at Rukanpura, Raja Bazar, Patna Zoo (formerly JD Women's College), Vikas Bhawan (formerly Raj Bhavan), Vidyut Bhawan, and Patna Junction (interchange).
Earlier this month, Afcons emerged as the only bidder for a 1.5 km long unique pedestrian tunnel connecting Bihar & Patna museums. That tunnel will be built using a tunnel boring machine which will pass right above Line-1's planned twin tunnels – see details here.
For more updates, check out the Patna Metro section or my Home Page! Sign up for free instant email notifications on new posts over here. Like this post? Get early-access to updates and support the site over here.
– TMRG