J Kumar Infraprojects last week began pouring concrete to construct the diaphragm wall (D-wall) of a permanent tunnel boring machine (TBM) shaft for 23.622 km Delhi Metro Silver Line's Package DC-08 (Aerocity – Kishangarh).
This permanent shaft will be constructed at the extreme west-end (starting boundary of DC-08) at chainage -760 m for extending the Silver Line's tunnels beyond this point in the future to IGI Airport's Terminal 1 Station to meet up with the Magenta Line.
The shaft will be 25m x 25m wide and 34.5m deep. Its location is indicated by the number 3 in the design drawing I've marked below:
Delhi Metro Rail Corporation (DMRC) had awarded J Kumar with 65.1 km Delhi Metro Phase 4's Rs. 1611.74 crore contract for Package DC-08 in March 2022 with a 42 month deadline.
J Kumar's 6.116 km Aerocity – Kishangarh section is on the western-end of the line and comprises of twin tunnels, and 4 stations at Aerocity, Mahipalpur, Vasant Kunj & Kishangarh from chainage (-) 760 mt. to 5356.285 mt.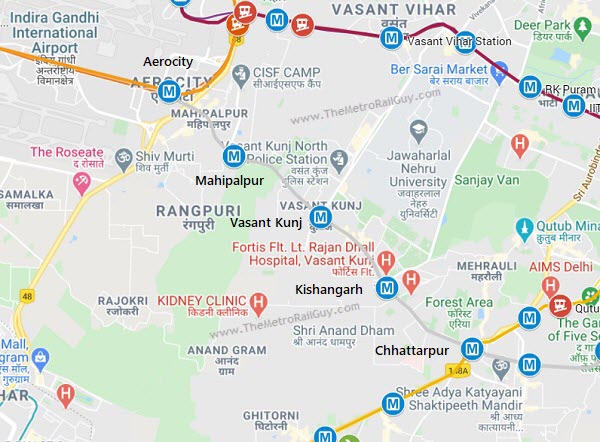 Work on Aerocity Station's D-wall had started in March 2023. The station will have a crossover facility between chainage -310.780 mt to – 125.000 mt, and the Silver Line's tunnels will pass underneath the Airport Express Line's tunnels just west of it – see more details here.
J Kumar will be deploying 3 tunnel boring machines all sourced from Terratec – 2 refurbished machines (S63B & S64B) and 1 new machine who's serial number I'm unaware of.
Details are a little sketchy to me, but I hear J Kumar will first launch one of the machines from Kishangarh towards Vasant Kunj, another machine from Aerocity to the permanent TBM Shaft and the third will head from Aerocity towards Mahipalpur.
For more updates, check out the Delhi Metro section or my Home Page! Sign up for free instant email notifications on new posts over here. Like this post? Get early-access to all updates and support the site over here.
– TMRG