3 firms have submitted bids to provide consultancy services (contract DCS-1B) for implementing Delhi Metro's Phase 4 project after technical bids were opened in mid-June.
Delhi's 65.1 km Phase 4 is well under construction and includes 1 new line (23.62 km Silver Line: Aerocity-Tughlakabad) and the extension of the Magenta Line (28.92 km Janakpuri West – R.K.Ashram) and Pink Line (12.58 km Mukundpur – Maujpur).
Delhi Metro Rail Corporation (DMRC) had invited Expression of Interest (EOI) applications in May 2021 with a 1620 day contractual period, received 6 applications in July 2021, and short-listed 3 bidders in March 2022. A year later, DMRC issued a new tender notice with a 1530 day (4.19 years) contractual period.
Note: Some of the firms may be in a consortium with others. If you're aware of all members in each consortia, then please drop a comment below or send me a message using the contact page.
Bidders (lead bidders only):
Egis Rail
PADECO Co.
SYSTRA
DMRC's Brief Scope: Consultancy Services for Implementation of Delhi MRTS Project Phase-IV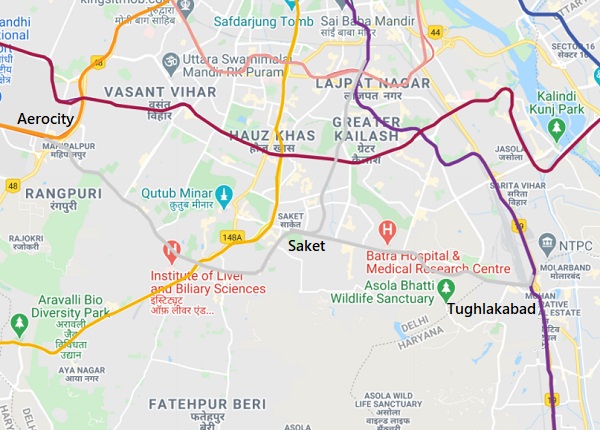 Egis Rail and PADECO had originally bid together in the EOI stage and were disqualified during evaluation, so I'm curious to see what changes were made to enable them to bid in this round.
Here are some details on contract scope and selection from the tender document:
Scope
The role of the Consultant is mainly advisory capacity to DMRC in various areas for successful commissioning of complete MRTS-IV Project.
Consultancy services shall be provided through expatriates and local experts. In certain areas, consultancy services shall be provided through local experts only.
Field of services shall be Project Planning, Programming and monitoring, Civil Engineering, Design & Structure, Quality assurance in construction, signalling, Telecommunication, Automatic Fare Collection System, Track, Ventilation, Air Conditioning, BMS, Rolling Stock and Safety, Health & Environment.
Entire consulting team shall be headed by a Team Leader. The general responsibility of Team Leader and Scope in other areas will be provided to the Shortlisted Consultants.
Method of Selection
Contract DCS-1B shall be Quality and Cost Based Selection (QCBS) wherein Quality Cost ratio shall be 80:20.
Financial proposals shall be opened of the consultants whose Technical Proposals are determined to be responsive to the key aspects of the RFP.
80% weightage for technical score obtained and 20% weightage for financial score shall be taken for evaluation.
For more updates, check out the Delhi Metro section or my Home Page! Sign up for free instant email notifications on new posts over here. Like this post? Get early-access to updates and support the site over here.
– TMRG