Madhya Pradesh Metro Rail Co Ltd (MPMRCL) on Saturday started train testing activities for 33.53 km Indore Metro Phase 1 project inside Gandhi Nagar Depot.
MPMRCL and Alstom's engineers operated their first Movia train-set, which arrived from Gujarat in August-end, out of the depot's inspection shed and onto the inspection bay line (IBL) for a roughly 200 meter round-trip. The event has been labelled by MPMRCL as a "safety run".
Videos can be viewed here and here on X (Twitter). Here are a few screenshots from them: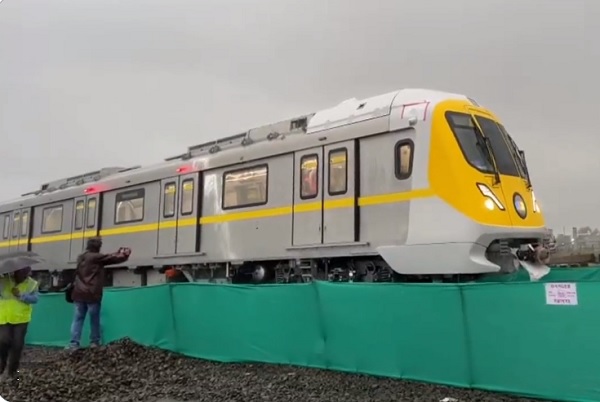 MPMRCL was earlier targeting to start trial runs on Indore Metro Yellow Line's 5.8 km Super Corridor section on September 15, but Madhya Pradesh's Chief Minister is no longer available for the event, per Economic Times. The official trial run will now take place later in the month.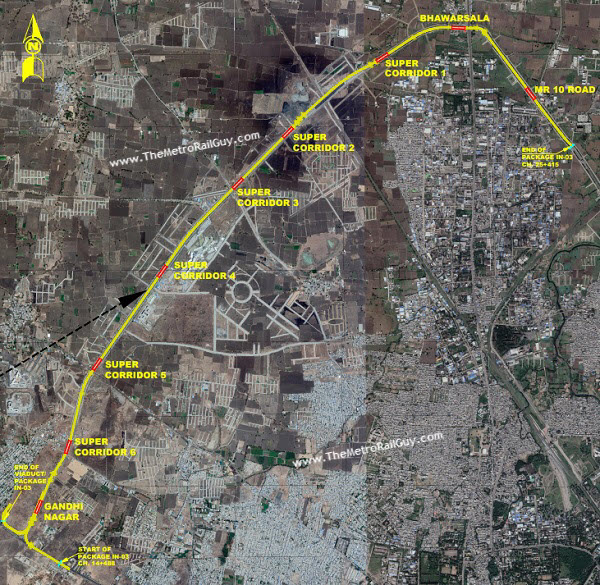 To facilitate upcoming trial runs on the main-line, Texmaco – ISC JV through Package IN-08 had completed all track-work in August-end.
Ballastless Track Casting – approx. 7600 m (excluding turnout length) completed in 2 working months
Ballastless Track Turnouts – 13 installed at record breaking speed in just 27 days
Depot Ballasted Track Progress Summary
Test Track – 960 m
Ballasted Track – 690 m
Ballasted Turnout – 14
Stabling Line – 220 m
Inspection Bay Line – 150 m
Coach Unloading Line – 111 m
Buffer Stop Installation – 4
The project's electrification contractor, Kalpataru Power Transmission Ltd (KPTL), working on Package IN-09 completed Third Rail installation activities on the Super Corridor section this Friday and charged it between Super Corridor 6 and Super Corridor 3 stations.
Even though trial runs on the main-line will be held up due to the CM's unavailability, there's a possibility of MPMRCL still going ahead and launching trial runs discreetly in the dead of night – just like what happened in Lucknow in 2016. I'll be keeping a close watch…
For more updates, check out the Indore section or my Home Page! Sign up for free instant email notifications on new posts over here. Like this post? See how you can get early-access to updates and support the site over here.
– TMRG