Gulermak – Sam India Builtwell JV on Sunday celebrated tunnel boring machine (TBM) S93's breakthrough at Bada Chauraha Station of the 32.4 km Kanpur Metro Phase 1 project.
This was TBM S93's third tunnel breakthrough and the 5th of 8 breakthroughs planned in the project's 3.619 km Package KNPCC-05 connecting Permat Ramp – Nayaganj Station.
This 6.52m diameter and 120m long Terratec TBM, nicknamed Nana after Nana Saheb Peshwa, has been deployed to build a portion of the up-line tunnel of Kanpur's 23.785 km Line-1 (IIT Kanpur – Naubasta). Its third drive was completed in just 57 days.
Here's a list of all drives completed by TBM Nana so far:
Bada Chauraha to Nayaganj (1025m) – December 2022
Chunniganj to Naveen Market (748m) – June 2023
Naveen Market to Bada Chauraha (516m) – September 2023 (this post!)
Uttar Pradesh Metro Rail Corporation (UPMRC) had awarded Gulermak – Sam India with Package KNPCC-05's construction contract in March 2021 with a 36 month deadline.
Besides constructing twin tunnels, they'll be building 4 stations at Chunniganj, Naveen Market, Bada Chauraha and Nayaganj, each 215m long.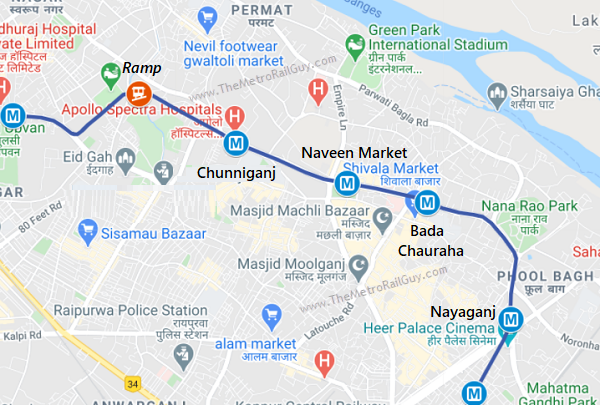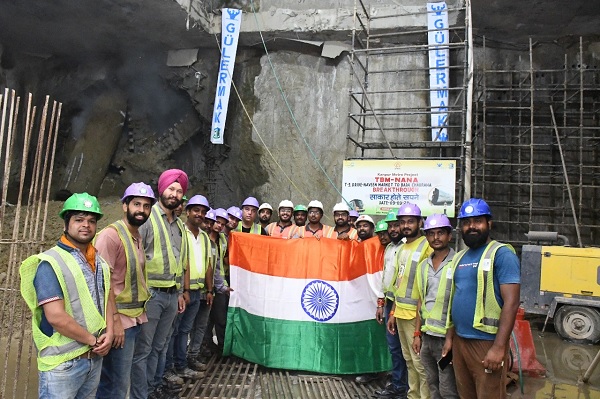 With this development, Line-1's upline tunnel has been built all the way from Chunniganj to Nayaganj – a distance of roughly 3.18 km including 3 cut & cover station boxes.
TBM Nana will now either be taken to Permat Ramp or Chunniganj Station (most likely, in my opinion) and re-deployed for its 4th and final assignment to build a roughly 414m tunnel between both those spots.
Gulermak-Sam's 2nd TBM (S92 nicknamed Tatya) working on the down-line tunnel was re-commissioned from Naveen Market a few weeks after TBM Nana. It has so far excavated approximately 300 meters (214 rings) and I expect it to arrive at Bada Chauraha in October.
For more updates, check out the Kanpur section or my Home Page! Sign up for free instant email notifications on new posts over here. Like this post? Get early-access to updates and support the site over here.
– TMRG