November 20, 2023 Update: DMRC has awarded Ayesa India with a Rs. 3,19,97,000 contract for Jaipur Metro Phase 1 and Phase 1D's design.
November 10, 2023 Orignal Post: Ayesa India last Friday beat Consulting Engineers Group (CEG) for the Detailed Design Consultant (DDC) contract of Jaipur Metro's Phase 1C and Phase 1D projects. The firm placed the lowest bid when Delhi Metro Rail Corporation (DMRC) opened financial bids for Package JCDD-01.
These brand new phases will extend Jaipur's operational 11.98 km Pink Line (Mansaravor – Badi Chaupar) in either direction to Transport Nagar (Phase 1C) and Ajmer Road Chauraha (Phase 1D). Phase 1C has an underground component (Package UG-03 – awarded to Afcons) through the old city.
3.412 km Phase 1C (0.96 km elevated): Badi Chaupar to Transport Nagar with 1 underground station at Ramganj Chaupar and 1 elevated station at Transport Nagar
1.312 km Phase 1D (entirely elevated): Mansaravor to Ajmer Road Chauraha with 1 elevated station at Ajmer Road Chauraha and a 0.357 km loop line
DMRC had invited bids for this DDC contract in July 2023 with a Rs. 4.39 crore estimate and expects the consultant to be onboard for 4 years. Technical bids were opened in September to reveal 2 bidders.
Financial Bid Values
| | |
| --- | --- |
| Firm | Bid (Rs. Crore) |
| Ayesa India | 3.19 |
| Consulting Engineers Group | 3.69 |
DMRC's Brief Scope: Engagement of Detail Design Consultant (DDC) for Civil, Architectural and Building Services including E and M works for one Underground and 2 elevated stations of Jaipur Metro Phase-1C and Phase-1D.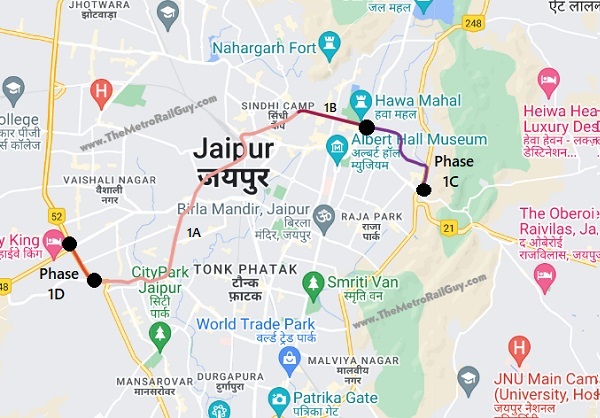 Ayesa's bid of Rs. 3.19 crore was well below DMRC's estimate of Rs. 4.39 crore, so a contract should be awarded in the coming weeks without a long financial evaluation period.
Their role will include, but will not be limited to, producing and proposing alternate designs of all civil, architectural, building services, electrical and mechanical works.
Back in early September, JMRC awarded Afcons Infra with Phase 1C's Rs. 630.45 crore construction contract for its 2.65 km underground section (Badi Chaupar – Transport Nagar Ramp). I haven't heard or read of basic ground preparatory works starting yet.
In mid-September, JMRC ended up canceling the tendering process for Phase 1C and 1D's elevated sections after the rate quoted by Sam India Builtwell, the only technically qualified bidder, was deemed too high. A retender notice is still pending.
For more updates, check out the Jaipur section or my Home Page! Sign up for free instant email notifications on new posts over here. Like this post? Get early-access to updates and support the site over here.
– TMRG