After kickstarting the bidding process for the 18.80 km RV Road – Bommasandra line in late-2016, the Bangalore Metro Rail Corporation Ltd. has now also initiated the civil bidding process for Bangalore Metro's new 21.25 km Gottigere – Nagawara line under the 72 km Phase 2 project. Today, they published a notice inviting infrastructure companies to bid for constructing its 7.50 km elevated viaduct in south Bangalore from Gottigere to Swagath Road Cross which includes 5 new stations.
This section of the line will be built on Bannerghata Road and is officially referred as Reach 6-CC-01. Further north, the line is going to consist of a 13.79 km underground section from Dairy Circle to Nagawara, and is likely to consist of 3 packages 4 packages (as per the MD) for which bids are expected to be invited this year.
On behalf of Managing Director, BMRCL, General Manager (Contracts) invites Tenders for the work of "Construction of Elevated Structure (viaduct and stations) of length 7.50 Km (approx.) from Gottigere to Swagath Road Cross (Chainage 00.00 m to 7501.818m) including Kothnur Depot, entry line, road widening and allied works and 5 numbers of Metro Stations viz. Gottigere, Hulimavu, IIMB, JP Nagar 4th Phase, Swagath Road Cross in Reach 6 line of Bangalore Metro Rail Project, Phase-2″
– Link to Notice
Besides constructing the viaduct in 27 months, the contractor will also be responsible for constructing 5 new stations at Gottigere, Hulimavu, IIM-Bangalore, JP Nagar 4th Phase and Swagath Road Cross. The multi-level Jayadeva Interchange Station on this line will be constructed under a separate package for which the BMRCL invited bids in December 2016.
As I've mentioned before, the entire line and other system contracts are going to be funded through loans obtained from the European Investment Bank (EIB) and Asian Infrastructure Investment Bank with whom the BMRCL has been in talks with since mid-2016. BMRCL's notice confirms that:
Tender documents for this package will go on sale on March 8, 2017 and the BMRCL has estimated it to cost Rs. 575.52 crores. The last date for submitting bidding documents is 3 pm on May 18, 2017 after which the bids will be opened & evaluated for eligibility at 3:30 pm. Financial bids are expected to be opened in Q4 2017 with ground work starting in Q1 2018. This line's depot will be built at Kothanur and as such, starting operations will not be dependent on the underground section. Timing wise, since this line will be a part of the multi-storey Jayadeva Interchange, I expect it open no sooner than 2022.
Phase 2's Status
With this development, the BMRCL has completed inviting bids for all elevated sections of Phase 2 (see list). Now only the 13.79 km underground section (in grey) is pending.
Blue: Under Construction | Black: Contract Awarded | Purple: Bids Invited | Grey: Bids Yet to be Invited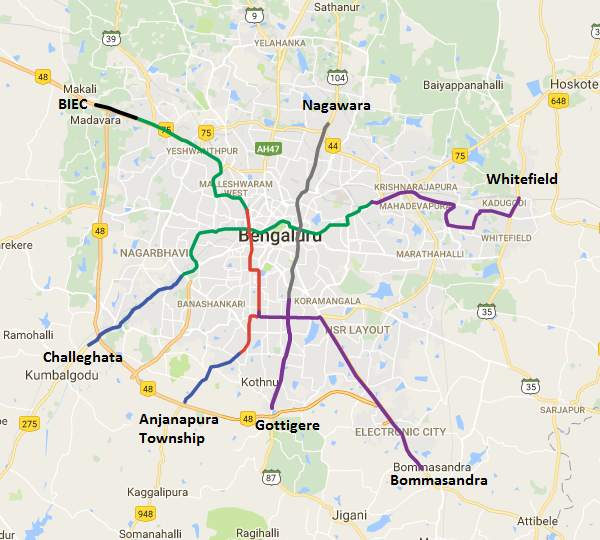 For more updates, check out the Bangalore section of The Metro Rail Guy!
– TMRG