Speaking to a local media channel on February 25, NVS Reddy – the managing director of Hyderabad Metro Rail Limited (HMRL) revealed that the Detailed Project Report (DPR) for Hyderabad Metro's Phase 2 project was ready and had been submitted to the Telangana state government for its cabinet's approval.
The Phase 2 project will include 3 elevated corridors or extensions of the existing lines built in the 67 km Phase 1 project. Besides the terminals of each and the neighborhoods it'll pass through, the MD hasn't revealed any further information.
Here's the video. Skip to 4:30 to hear the MD talk about it –
The new plan totaling approximately 58 km is radically different than the 83 km Phase 2 plan revealed in 2015. Here are the 3 lines mentioned in the video –
(1) Raidurg to RGI Airport line – an approximately 31 km extension of the Blue Line passing through Gachibowli and Himayathsagar via the Outer Ring Road (ORR) to connect up with Rajiv Gandhi International Airport in Shamshabad.
(2) Miyapur – Lakdikapul line – an approximately 22 km extension of the Red Line connecting Miyapur – BHEL – Kondapur – Gachibowli – Raidurg – Mehdipatnam – Masab Tank – Lakdi Ka Pul (located also on the Red Line) intersecting itself to form a small ring for the north-west quadrant of the city.
(3) Nagole – LB Nagar – an approximately 5 km southern extension of the Blue Line from Nagole to connect with LB Nagar on the Red Line. Both stations at LB Nagar will likely be connected via foot overbridge (FOB).
I've mapped all 3 of them out here in blue color –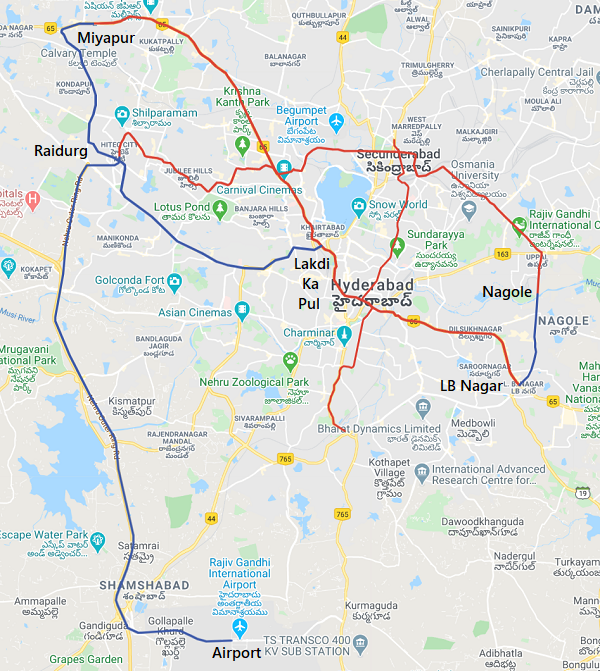 With this development, the following lines revealed in 2015 are now officially off the table –
Red Line Extn – LB Nagar – Hayathnagar (7 km)
Red Line Extn – Miyapur – BHEL – Patancheru (13 km)
Blue Line Extn – Nagole – LB Nagar – Falaknuma – Shamshabad Airport (28 km)
New Line – Tarnaka – ECIL (7 km)
All Phase 1 works ended with the recent opening of the 9.6 km Green Line (JBS Parade Ground – MGBS). For Phase 2's execution, the ball is now entirely in the state government's court. Ideally the DPR should have been prepared and sent a year ago to hash out all government / red-tape issues and avoid the gap in construction work.
For more updates, check out the Hyderabad section of The Metro Rail Guy!
– TMRG