The New Development Bank (NDB)'s updated website reveals that on June 17, the bank approved a loan concept to lend USD 500 million (approx. Rs. 3727 crore) for the development of the 82.5 km Delhi – Meerut Regional Rapid Transit System (RRTS) line.
With the loan's concept now approved, its officials are now expected to conduct a fact-finding mission in the coming months and then place the loan for a formal approval before the bank's board by year-end.
Besides utilizing state and central governments funds, the Rs. 30,274 crore Delhi – Meerut RRTS line until now was proposed to be financed partly only by the Asian Development Bank (ADB) through a USD 1,549 million (approx. Rs. 11,725.93 crore) loan and by the Asian Infrastructure Investment Bank (AIIB) through another USD 500 million loan – see details.
Here's a status table from NDB's website:
| | |
| --- | --- |
| Project Name | Delhi-Ghaziabad-Meerut Regional Rapid Transit System (RRTS) Project |
| Country | India |
| Sector | Urban Transport |
| Concept Approval Date | 17 June 2020 |
| Total Project Cost* | USD 4,268.48 million |
| Proposed Loan Amount | USD 500 million |
| Co-Financiers | Other possible financiers may include Asian Development Bank and Asian Infrastructure Investment Bank |
| Borrower | India |
| Implementation Agency | National Capital Region Transport Corporation (NCRTC) Limited |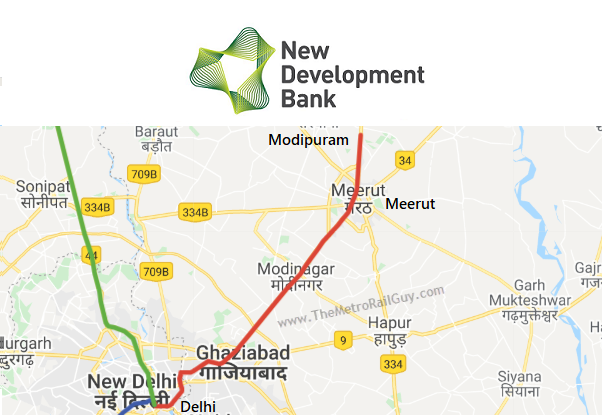 The Delhi – Meerut RRTS line is well under construction on an 18 km stretch between Sahibabad – Ghaziabad – Guldhar – Duhai by KEC-CCECC JV (Package 1) and APCO-CRFG (Package 2), with Larsen & Toubro commencing construction on another 33 km section between Duhai – Shatabdi Nagar (Package 3) earlier this month.
Bids for the other 4 civil packages of the main-line have also been received. 1 is pending award and 3 are under technical bid evaluation – see a detailed status here. Similarly, a detailed status of all systems-related contracts (eg. Rolling Stock, Signalling etc.) can be viewed here.
The NDB bank was previously known as the BRICS Development Bank, and was established collectively by Brazil, Russia, India, China and South Africa. In the past, it has approved USD 260 million for Mumbai Metro's Line-2 (Yellow Line) & Line-7 (Red Line), and USD 225 million for Indore Metro's Phase 1 project. Besides the RRTS project, it is also currently evaluating a USD 241 million loan for Mumbai Metro's 15 km Line-6 (Pink Line).
For more updates, check out the NCR RRTS section of The Metro Rail Guy!
– TMRG