Delhi Metro Rail Corporation (DMRC) today opened technical bids from construction companies to reveal that three firms had submitted tenders (bids) to build a new cut & cover ramp and remodel Sarita Vihar Depot on Delhi Metro's 46.63 km Violet Line that connects Kashmere Gate with Raja Nahar Singh in Ballabhgarh, Haryana.
DMRC plans to repurpose this depot for stabling maintaining trains on the Phase 4 project's upcoming 20.201 km Aerocity – Tughlakabad line in the future. They invited bids for its reconstruction in July with an estimated cost of Rs. 59.11 crore and expect the assigned contractor to complete all work within 730 days (2 years)
Bidders:
Dharamraj Contracts India Pvt. Ltd.
Vaibhav Construction Pvt. Ltd.
YFC Projects Pvt. Ltd.
The bids have now been sent for technical evaluation which can take a couple months to complete. When that is complete, the financial bids of the technically qualified bidders will be opened to reveal who's the lowest bidder and most likely contractor for remodeling the depot's infrastructure.
Contract: DC-26
Brief Scope: To Provide for maintenance facilities for the Vehicles on upcoming Tughlakhabad – Aerocity Corridor and Lajpat Nagar – Saket G Block Corridor and expansion of Depot cum workshop at Sarita Vihar. The civil work including Depot development works is to be undertaken in this contract consists of construction of Ramp, Demolition and restoration of Blower Room, Civil works for Shifting of ETP, Road Works, Railing Works etc. including all the Design of temporary works to be undertaken by a designer under arrangement of contractor.
Sarita Vihar Depot – built in the 124.93 km Phase 2 project – is located about 1.3 km away, as the crow flies, from the planned location of the new Tughlakabad Station. The construction of twin tunnels leading to it, likely using 1 tunnel boring machine, will be part of a separate civil package.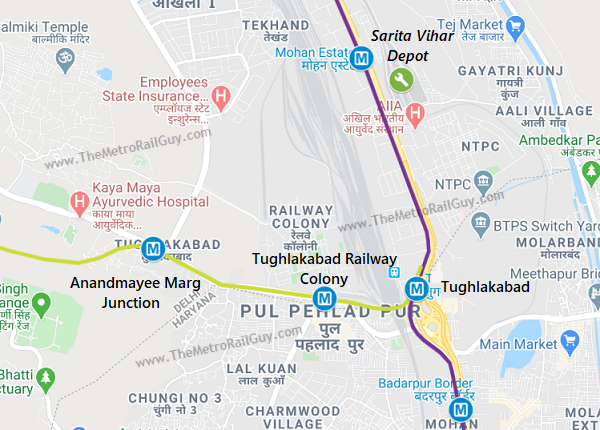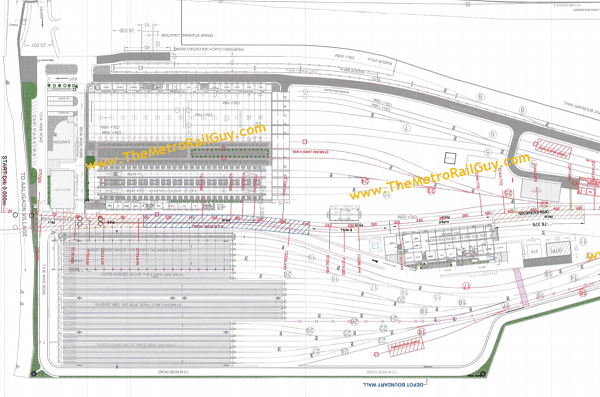 Per the tender documents, here's the brief work content:
Cut and Cover Ramp by using Top-Down and Bottom up Technology including Waterproofing
Road Works for New Development and Restoration
Subgrade preparation works for new Stabling Line
Civil Works for Shifting of Existing ETP to a new Location including dismantling
Railing Works in Depot Area
Other development works
To maintain the Violet Line's train maintenance/stabling capacity, DMRC in June invited bids to remodel Ajronda Depot (package CC-25) through the construction of a new pre-fabricated steel roof structure for workshop and inspection bays. Technical bids for it were opened last week to reveal 10 bidders.
For more updates, check out the Delhi section of The Metro Rail Guy!
– TMRG