BEML Limited today invited bids from transport companies to start delivering 504 new coaches to Mumbai Metro Yellow Line's Charkop Depot in Malvani, Malad from their Bangalore Coach Factory in CV Raman Nagar.
Mumbai Metro's 84 6-coach MRS1 rolling stock contract was awarded to BEML in November 2018 for the city's new 42.20 km Line-2A/2B (Yellow Line) which'll connect Dahisar East with Mandale and 30.5 km Line-7/7A/9 (Red Line) which'll connect Mira Bhayander with CSIA T2.
Contract MRS1 – 378 coach order (63 train-sets) valued at Rs 3015 cr – LOA issued in November 2018
Additional Order – 126 coach order (21 train-sets) valued at Rs. 834 cr – LOA issued in August 2019
BEML's tentative schedule indicates the first train-set will be delivered in November 2020, the second train-set in January 2021, third in May 2021, and then multiple train-sets per month all the way until May 2024 – see a detailed tentative schedule at the bottom of the post.
The exact dispatch date will be communicated to the transport company 14 days in advance with 6 coaches being transported at a time.
BID INVITATION NO. 6300034024
Brief Scope: BEML LIMITED invites tenders from reputed Transporters having experience in movement of completely built metro cars through hydraulic trailers by Road for transportation of 504 Nos of Completely built Metro Cars from BEML Ltd, Bangalore complex to Designated Depot at Mumbai through hydraulic trailers by Road.
I will not be tracking the winner of this contract, but here's some bidding information which gives an idea of timelines:
Last date for forwarding Queries if any, for clarification: 5.09.2020 @ 14:00 PM
Last date for Submission of Bid: 22.09.2020 before 14:00 PM
Opening of Pre-Qualification Bid: 22.09.2020 @ 15:00 PM
Opening of Technical Bid: 22.09.2020 @ 15:00 PM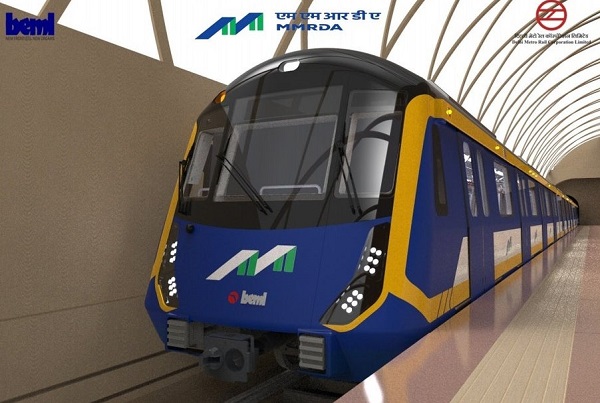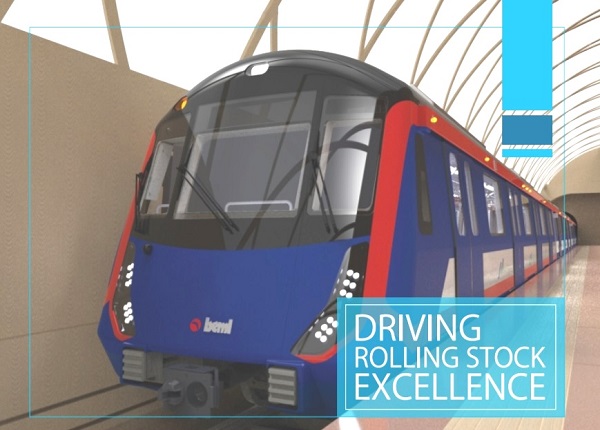 A model coach was unveiled in September 2019 at Akurli Station while the first train-set's body shell was ready in January 2020 – see some snaps here.
Here's some information from the tender documents:
Lifting, Loading & Unloading Arrangement
Position the lifting Beam under the front & Rear Bogie carefully.
Place the Bogie Stopper on the lifting beam to align center of Bogie.
Insert Wood Blocks under Side Frame center of Bogie.
Attach the lifting Spreader to the Cranes hook & check whether upper part of wire rope is twisted with Cranes Hook. Locate Cranes hook at the center over the Car.
Descend the lifting Spreader slowly & carefully. Use extra ropes that are attached to the lower end of wire rope to protect scratches on the Cars.
Fix the lower wire rope of lifting spreader Assy in wire rope hanger of lifting beam.
M-Car should minimise the droop of Carbody, using shackle & round sling on the opposite side of the droop part which is caused by declination of the weight.
Transporter must setup a signal communication between signalman & Crane driver and must follow the rule on set-up method, location of Crane on the ground etc.
Make sure that Cranes hook is located over the center of the Car. If not, you must move the Spreader to the center of the car in order to avoid leaning of Car to one side, which is very dangerous.
Raise the Cranes hook slowly & carefully and simultaneously monitor lower part wire rope is attached to lifting beam.
Ensure wire rope attached to lifting spreader is tight to protect Carbody from rolling and avoid force pulling the rope which may lead to lean to one side.
Position the trailer under the car when in lifted condition.
Descend the Car slowly on the skid pallet placed over the Trailer and fix the Bogie to the Skid pallet and load the car on the Trailer.
Remove the wire rope attached to lifting beam, lift the spreader ensuring ropes are protected to avoid scratches on the Cars and turn the crane arm for the next stage followed by stoppers & lifting beam.
Cover the Car with using Tarpaulin which should be scratch & water proof.
Standard methods to be adopted for Transportation & lashing of cars.
Transportation of Metro Cars should be escorted to avoid accidents, damages, thefts etc.
Follow the same methods for lifting & unload the car on the Rail at the depot. Ensure whether the direction is correct when unloading the car on the rail.
Tentative Delivery Schedule
378 Cars of Completely Build Metro Cars: subject to change
1st Train Set (6 Cars) – Nov 2020
2nd Train Set (6 Cars) – January 2021
3rd Train Set (6 Cars) – May 2021
12 Train Sets (72 Cars) – 2 TS/month in alternate months from July 2021 to May 2022
36 Train Sets (216 Cars) – 3 TS/month continuously from June 2022 to May 2023
12 Train Sets (72 Cars) – 4 TS/month continuously from June 2023 to Aug 2023
126 Cars of Completely Build Metro Cars:
21 Train Sets (126 Cars) – 3 TS/month continuously from Nov 2023 to May 2024
Major Technical Details
Train Formation: DMC – TC – MC – MC – TC – DMC where DMC = Driver Motor Car, TC = Trailer Car and MC = Motor Car
Length: 3200 mm
Height: 3958 mm
Weight: 44 mt
More technical specifications can be viewed here.
Looking at the tentative delivery schedule and civil progress of both lines, it's fairly reasonable to conclude that revenue/commercial operations on either line will not start until at least mid-2022.
For more updates, check out the Mumbai section of The Metro Rail Guy!
– TMRG