Besides color-coded station façades and signage, Mumbai will also get color coded metro train-sets.
A new marketing brochure on BEML's website contains a new red-striped rendering of Mumbai Metro's 84 6-coach MRS1 rolling stock design that was awarded to BEML in November 2018 for the city's new 42.20 km Line-2A/2B (Yellow Line) which'll connect Dahisar East with Mandale and 30.5 km Line-7/7A/9 (Red Line) which'll connect Mira Bhayander with CSIA T2.
BEML had first unveiled the rolling stock's impressive design with yellow top and bottom stripes – the only one officially released so far – at an event in July 2019 marking the start of manufacturing.
Google indicates the brochure with the new rendering was uploaded onto BEML's site on February 29, and that's around the time when MMRDA revealed Mumbai Metro's line colours to the public in an effort to establish each line's identity.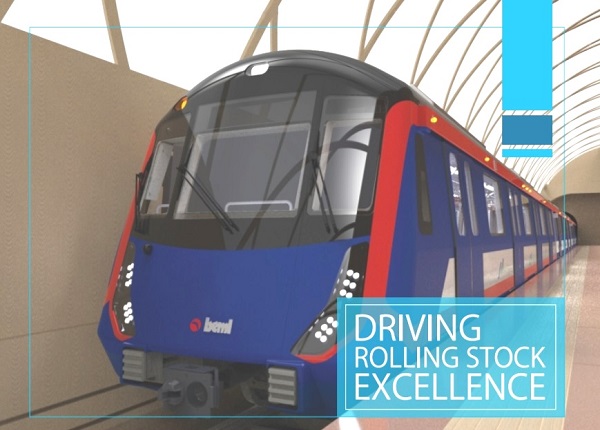 BEML will supply a total of 504 lightweight, fully-furnished, modern metro coaches for both lines' rolling stock which they secured under two separate orders –
Contract MRS1 – 378 coach order (63 train-sets) valued at Rs 3015 cr – LOA issued in November 2018
Additional Order – 126 coach order (21 train-sets) valued at Rs. 834 cr – LOA issued in August 2019
As per the contract specifications, these coaches will be of modern design, lightweight made of stainless steel/aluminium, with 3 phase AC drive having V.V.V.F. control, regenerative braking, compatible to work with ATP, ATC, ATO,UTO (CBTC based) provided by other designated contractors and capable of operating on 25 KV AC single phase 50 Hz rigid/flexible Overhead Catenary System (OCS).
Like the Delhi Metro's new Hyundai Rotem trains for the new Pink & Magenta lines, Mumbai's trains will be capable of running without an operator or 'driverless' on the unattended train operation (UTO) mode.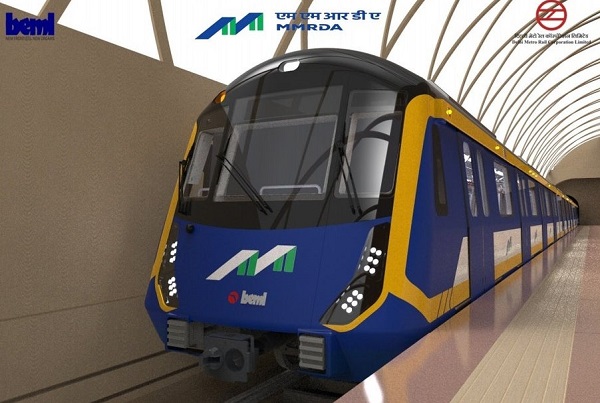 An exact split of the 84 trains by line hasn't yet been revealed by the Mumbai Metropolitan Region Development Authority (MMRDA). Here's some information from the brochure:
Specifications
Train Formation: DMC – TC – MC – MC – TC – DMC
Rail Gauge: 1435 mm
Operating Speed: 80 kmph
Top Speed: 90 kmph
Passenger Capacity: 2280 passengers (6-coach)
Current Collection: 25 kV AC, Overhead Collection System (OHE) through pantograph
Carbody: Stainless steel car body with 2J finish exterior and covered with colored graphic films
Bogies: Two axle bolsterless type bogie with primary helical coil spring and secondary air suspension with tread brakes
Propulsion: State of the art 3 Phase propulsion system with induction motor variable voltage and variable frequency (VVVF) control with regenerative braking
Brake System: Regenerative braking blended with pneumatic braking
Air Conditioner: Roof mounted heat ventilation and air-conditioning system (HVAC)
Door System: Electrically operated bi-partly externally hung sliding type door
PA/PIS & CCTV: Automatic passenger announcement system, digital route map on each door, passenger saloon surveillance system
Saloon Lighting: LED based lighting system with intelligent light control (ILC) resulting in energy saving
Interiors: Aesthetically appealing interios with FRP panels, SS grab poles and grab rails, SS seats, floating floor with rubber covering, cycle parking facility
Earlier this week, BEML delivered a new Catenary Maintenance Vehicle (CMV) to Mumbai Metro's new Charkop Depot. The rolling stock's 1st body shell was ready in January 2020, but there's still no word or indication from BEML officials or their tender page on when the first train-set will be ready for dispatch to Mumbai. Stay tuned!
For more updates, check out the Mumbai section of The Metro Rail Guy!
– TMRG