Delhi Metro Rail Corporation (DMRC) today announced it has officially assigned the under construction 20.201 km Line-10 connecting Tughlakabad – Saket G Block – Aerocity through 15 stations as the network's Silver Line.
DMRC in the past has used primary colours (Red, Yellow & Blue) for Phase 1's lines, secondary or complimentary colours (Violet, Green, Orange) for Phase 2 lines, and tertiary & neutral colours (Pink, Magenta & Grey) for Phase 3's new lines.
The Silver Line's basic & mostly underground route in South Delhi was finalized in July 2016 as part of the 61.679 km (and growing) Delhi Metro Phase 4 project, and approved for construction by India's Central Government on March 7, 2019.
In the future, the Violet Line's Sarita Vihar Depot will be augmented (DMRC received 3 bids) to house the Silver Line's rolling stock, and the DMRC might construct an additional depot or stabling yard in Vasant Kunj.
The 15 stations on the Silver Line will be built at Tughlakabad, Tughlakabad Railway Colony, Anandmayee Marg Junction, Tigri, Khanpur, Ambedkar Nagar, Saket G Block, Saket, Lado Sarai, Mehrauli, Kishangar, Masoodpur, Vasant Kunj (Sec-D), Mahipalpur and Delhi Aerocity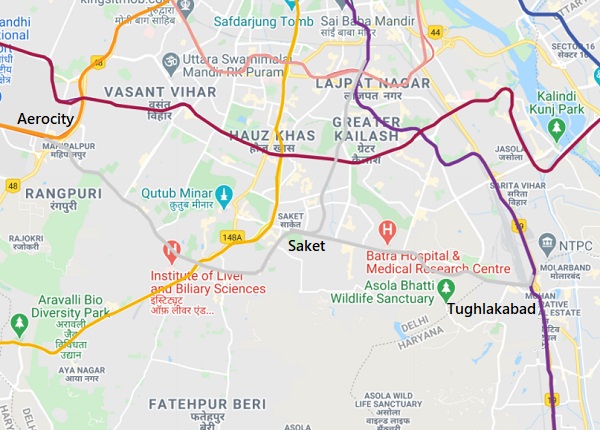 A 7.96 km elevated & underground spur of the Silver Line connecting Lajpat Nagar – Saket G-Block is pending approval from the Central Government's Cabinet. That branch will consist of 6 stations at Saket-G Block, Sheikh Sarai, Chirag Delhi, GK-1, Andrews Ganj and Lajpat Nagar.
A consortium of AECOM Singapore – Tandon Consultants – AECOM India Pvt Ltd. was assigned as the Silver Line's Detailed Design Consultant (DDC) in November 2018, and so far DMRC has only invited and awarded one section's construction, the 4.28 km Package DC-04 connecting Sangam Vihar – Saket G-Block through 4 elevated stations, to YFC Projects Ltd. which in August began casting U-girders at their casting yard in Pushp Vihar.
Bids for the Silver Line's remaining roughly 15 km underground section's 3 civil packages are yet to be invited and are dependent on the Japan International Cooperation Agency (JICA)'s approval.
| | |
| --- | --- |
| Package | Status |
| Package DC-07: Anandayee Marg to Tughlakabad, 6.477 km underground section with 3 stations | Tender Notice Pending |
| Package DC-08: Aerocity to Vasant Kunj Sec-D, 5.49 km underground section with 4 stations | Tender Notice Pending |
| Package DC-09: Masoodpur – Neb Sarai (Saket G Block), 6.88 km underground section with 4 stations | Tender Notice Pending |
Personally, I think the Silver Line's colour is awfully close to grey (used for Line-9 connecting Najafgarh), and I probably would have preferred brown or something like neon green to set it apart. Gold is another option, but would have been too similar to orange and yellow.
Fun Fact: DMRC had earlier assigned brown to be the colour for the now operational Pink Line, which is also being extended in Phase 4, but changed their mind sometime in 2015.
For more updates, check out the Delhi section of The Metro Rail Guy!
– TMRG