The Delhi Metro Rail Corporation (DMRC) on their website has officially updated the length and number of stations of the Phase 4 project's Silver Line which will connect Aerocity – Saket G Block – Tughlakabad in south Delhi.
This new mostly-underground line was approved by the Central Government in March 2019 with a 20.201 km route length and 15 stations. Per the DMRC's revised route table, updated on October 7, the Silver Line will now be 23.622 km long with 16 stations.
While the length of the elevated section (Sangam Vihar – Saket G-Block) at 4.279 km has not changed, the underground section's length has increased from 15.922 km to 19.343 km.

The reason for the revision has not been revealed, but it could very well be due to the realignment of the line through the Neb Sarai – IGNOU Road area and extension of the line further eastward towards the Violet Line's Sarita Vihar Depot which will be repurposed under Package DC-26, likely by YFC Projects, to maintain & stable the Silver Line's rolling stock in the future.
The Silver Line's 16th / new station's name or location has not been revealed. The rest 15 will be built at Aerocity, Mahipalpur, Vasant Kunj, Kishangarh, Chhatarpur, Chattarpur Mandir, IGNOU, Neb Sarai, Saket G-Block, Ambedkar Nagar, Khanpur, Tigri, Maa Anandmayee Marg Junction, Tughlakabad Railway Colony (Pul Prahaladpur) and Tughlakabad.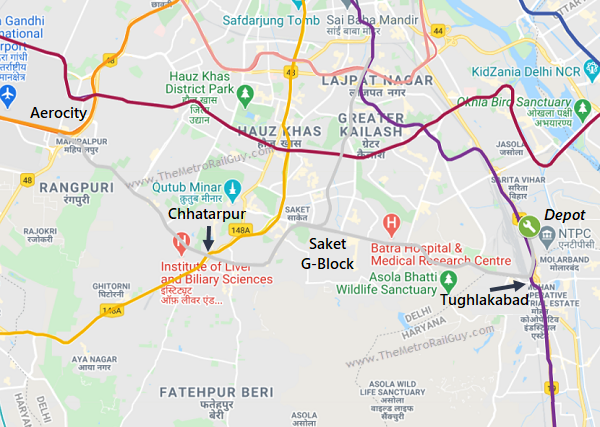 A consortium of AECOM Singapore – Tandon Consultants – AECOM India Pvt Ltd. was assigned as the Silver Line's Detailed Design Consultant (DDC) in November 2018, and so far DMRC has only invited and awarded one section's construction, the 4.28 km elevated Package DC-04 connecting Sangam Vihar – Saket G-Block through 4 stations, to YFC Projects Ltd. which in August began casting U-girders at their casting yard in Pushp Vihar.
Bids for the Silver Line's remaining 19.3 km underground section's 3 civil packages are yet to be invited and are dependent on the Japan International Cooperation Agency (JICA)'s go-ahead.
Here's the status of the Silver Line's civil packages (west to east). The pending 3 packages will each be a little more than 6 kms long. An accurate description of their length, start/end points, and number of stations (including the 16th one) will appear only after the tender notices are published.
| | |
| --- | --- |
| Package | Status |
| Package DC-08: Aerocity to Kishangarh, 6.11 km underground section with 4 stations | Tender Notice Pending |
| Package DC-09: Kishangarh to Saket G-Block, 6.88 km underground section with 4 stations | Tender Notice Pending |
| Package DC-04: Saket G-Block to Sangam Vihar, 4.28 km elevated section with 4 stations | Under Construction by YFC Projects |
| Package DC-07: Sangam Vihar to Tughlakabad, 6.477 km underground section with 3 stations | Tender Notice Pending |
On a side note – I wish the package numbering for this line was sequential. Right now it's all over the place!
With this development, Delhi Metro's Phase 4's total length is now up from 61.679 to 65.1 km – coincidentally as large as the Phase 1 project which was also developed with 3 lines (Red, Yellow & Blue) between 1998 – 2006.
For more updates, check out the Delhi section of The Metro Rail Guy!
– TMRG
Hat-tip to Pankaj Sharma