Delhi Metro Rail Corporation (DMRC) on Monday invited bids for geotechnical survey work to develop a Detailed Project Report (DPR) for Pune Metro's new corridors connecting Swargate – Pulgate (3 km) and Hadapsar – Loni Railway Station (8.5 km).
Both corridors are proposed by Pune Metropolitan Region Development Authority (PMRDA) and were first announced in January 2020. The Swargate – Pulgate corridor is proposed as an entirely new line, while the Hadapsar – Loni corridor is proposed as a part of an 18 km eastern extension of the 23.33 km Line-3 from Civil Court in Shivajinagar to Loni Railway Station near Kadam Wasti Grampanchayat.
Tender No: NIQ/03/GM(CS)/2020
Brief Scope: Geo-Technical Investigation work for Preparation of Detailed Project Report (DPR) for additional sections of Pune Metro Corridor (Swargate to Phoolgate (5.5 km approx.) and Hadapsar Bus Stand to Loni Railway Station (8.5 km approx.))
Completion Period: 45 days
Date & time of submission: 07-Dec-2020 at 04:00 PM
Date & time of tender opening: 08-Dec-2020 at 04:30 PM
DMRC has shared this absolutely terrible route map of both corridors within the tender notice: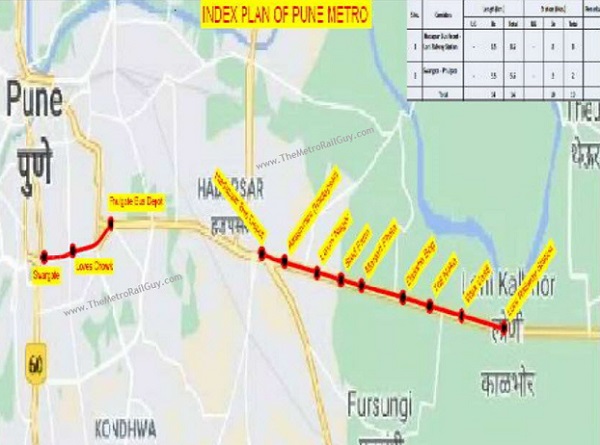 From what I can make out, the Swargate – Pulgate section will include 3 stations at Swargate (new station box will come up adjacent to Phase 1's under construction Swagate Station), Seven Loves Chowk and Pulgate Bus Depot. The distance through Google Maps' distance tool works out to be around 3 km, so I'm not sure how DMRC derived 5.5 km.
I can't figure out the stations on the Hadapsar – Loni corridor of Line-3, but imagine some of them are named Malwadi, Anand Nagar, Laxmi Colony, Sainath Colony and Loni Railway Station. The construction of this section (and its utility / success) depends on the construction of the Shivajinagar – Hadapsar section.
Here's a better high-level map I've prepared to show how all lines might look like in 2030: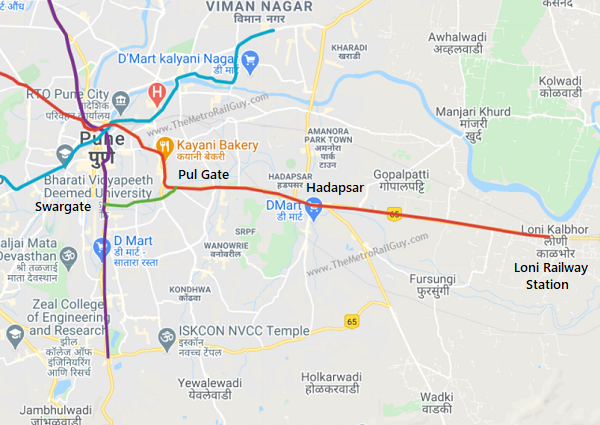 The tender document lists the following activities must be performed by the geotechnical investigation contractor:
Drilling of 150 mm diameter boreholes in all types of soils upto 30 m depth
Conducting Standard Penetration Tests in bore holes at regular intervals of 1.5m as per I.S. Code of practice and also in-situ tests as per Schedule.
Collecting undisturbed soil samples from bore holes at every change of strata subject to a minimum of two per bore hole as per I.S. Code of practice.
Recording of water table level in the bore holes after completion of boring.
Drilling bore holes upto a maximum depth of 5 meters in intact Hard Rock (RQD >50%) or 10 m in weathered rock (RQD upto 50%) or 30 meters in soil (upto N=100) using hydraulic / calyx rig by wash boring method as per the directions of Engineer-in-charge and as detailed in Technical Specifications and Schedule.
Conducting in-situ permeability tests in Rocky strata and tests in labs in all other types of soils.
Collecting rock core samples from bore holes and record the RQD.
Conduct all necessary laboratory tests on samples collected as per Schedule and Technical Specifications.
Survey of bore holes for elevation and plotting of bore hole locations in alignment plan.
Preparation of report summarizing the details of soil / rock classifications, analysis of test data and recommending the type of foundations to be adopted with design calculations for the proposed Elevated corridor duly highlighting the design criteria and design
methodology and different groups of soil strata encountered.
For more updates, check out the Pune section of The Metro Rail Guy!
– TMRG