Sam India Builtwell Pvt. Ltd. and GR Infraprojects Ltd. are once again the only two bidders for a 9.605 km extension of Noida Metro's Aqua Line from Noida Sector-51 to Greater Noida Sector-2, after Noida Metro Rail Corporation (NMRC) opened technical bids today to reveal its list of bidders.
This is the third round of bidding for this section of the 29.7 km Aqua Line's 14.95 km eastern extension (Sector 51 to Knowledge Park V) which was approved for construction by Uttar Pradesh government in December 2019.
NMRC had originally invited tenders for this civil package in May with an estimate of Rs. 430.69 crore, received bids from 3 firms (1 of which was not a construction firm), canceled the tender in July to seek a better response, re-invited tenders again in September, and then received two bids from Sam India and GR Infraprojects in mid-November.
After canceling the second round for a better response, NMRC then re-invited tenders for this package in late-November with an estimate of Rs. 491.99 crore and expects the assigned contractor to complete work in 24 months from when the contract is awarded.
Contract: NGNC-01
Brief Scope: Part Design and Construction of Elevated Viaduct and 5 elevated stations viz NOIDA SEC -122, NOIDA SEC-123 GR. NOIDA SEC-4 ECOTECH-12 GR NOIDA SEC-2 (excluding Architectural finishing Works and PEB works of stations) from Chainage 0.00 m to Chainage 9605 m of Noida -Greater Noida Metro Rail Project.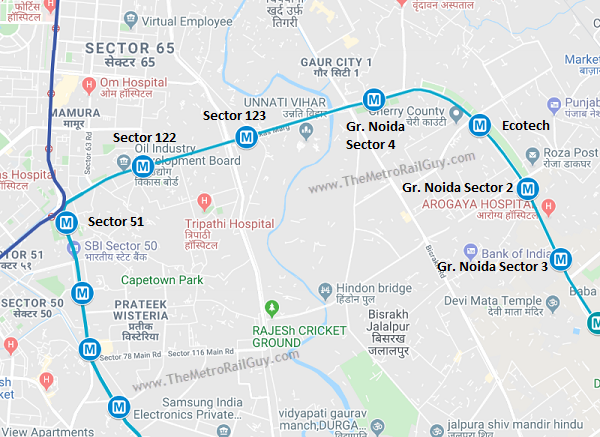 The tendering process for this is on an endless loop. The industry's response has not changed from the last round of bidding, so let's see if NMRC cancels it yet again or moves on to the technical bid evaluation stage. If the latter happens, then the financial bids of the technically qualified bidders are expected to be opened in Q1 2021 to reveal who's the lowest bidder and most likely contractor.
Earlier this month, NMRC and the Delhi Metro Rail Corporation (DMRC) signed an agreement through which DMRC will provide services as the General Consultants (GC) and Project Management Consultants (PMC) for this extension.
For more updates, check out the Noida – Greater Noida section of The Metro Rail Guy!
– TMRG