AECOM India today won the General Consultant (GC) service contract for civil works of Mumbai Metro's upcoming 9.20 km Line-10 (Gaimukh – Shivaji Chowk in Mira Road) and 20.7 km Line-12 (Kalyan – Taloja).
AECOM's selection among 5 bidders was made on the Quality cum Cost Basis System (QCBS) method in which the winner's selection is made through a combination of points scored in technical and financial evaluation. In this, AECOM had recorded the highest technical score and also placed the lowest financial bid.
Mumbai Metropolitan Region Development Authority (MMRDA) had invited GC bids in July with a 48 month completion period. Technical bids were opened in October to reveal 5 bidders.
Total Scores:
| | |
| --- | --- |
| Firm | Total Score |
| AECOM | 78.830 |
| AYESA – KRNA JV | 73.692 |
| SYSTRA | 71.433 |
| SMEC | 70.793 |
| DB Engineering – Louis Berger JV | 67.328 |
Tender No: MMRDA/Metro- PIU/0002141
Brief Scope: Appointment of General Consultant for Civil work of Metro Line 10 (Gaimukh To Shivaji Chowk (Mira Road) and Metro Line 12 (Kalyan to Taloja)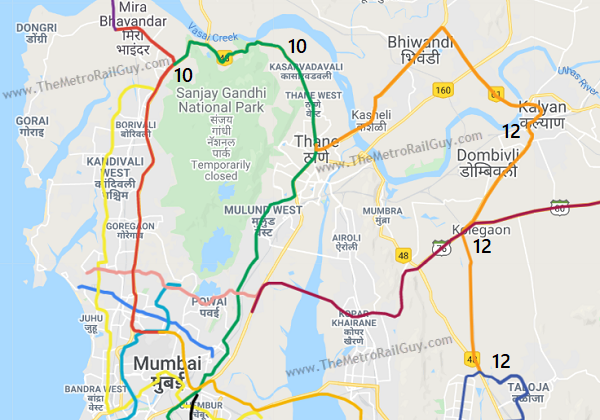 Mumbai Metro's Line-10 will be built as a western extension of the 35.2 km Line-4/4A (Green Line) with 4 stations at Gaimukh Reti Bundar, Varsova Char Phata, Kashimira, Shivaji Chowk. The line will form an interchange with Line-9 (Red Line) at Pandurang Wadi, where possibly a fifth station could come up for providing easy transfers.
Line-12 will be built as a 20.75 km southern extension of the 24.95 km Line-5 (Orange Line) with 17 stations at Ganesh Nagar, Pisvali Gaon, Golavali, Dombivli MIDC, Sagaon, Sonarpada, Manpada, Hedutane, Kolegaon, Nilaje Gaon, Vadavali, Bale, Waklan, Turbhe, Pisarve Depot, Pisarve, Taloja. The line's depot is planned at Pisarve.
The appointment of a dedicated General Consultant to assist MMRDA is expected to pave the way for both lines' speedy implementation through assistance in design, supervision, safety, quality control and contract management. A more detailed scope can be viewed at the bottom of this post.
The foundation stone for both lines was unveiled by the Prime Minister in September 2019. With this development – civil tendering for Line-10's construction can be expected to start in 2021 if the state government and MMRDA have the financial appetite. The development of Line-12 is possible independently without Line-5, which is facing major land acquisition hurdles in Kalyan, but ultimately its success and integration with the rest of the network is dependent on Line-5.
For more updates, check out the Mumbai section of The Metro Rail Guy!
– TMRG