Voestalpine VAE VKN India Pvt. Ltd. last Friday emerged as the lowest bidder for the 82.15 km Delhi – Meerut RRTS Line's Package 15 involving the supply of standard gauge 60 kg UIC turnouts and scissor crossovers.
The turnouts and scissor crossovers from this package will allow the system's Bombardier train-sets to guide from one track line to another.
The National Capital Region Transport Corporation (NCRTC) had invited tenders (bids) for this package in May 2020 funded by the Asian Development Bank (ADB). Technical bids were opened in mid-October to reveal 2 bidders.
NCRTC estimates this package to cost $24.62 million (approx. Rs. 181 crore) and expects the assigned contractor to complete work in 810 days (2.2 years) from when the contract is awarded.
The bid values below are unconfirmed and likely reflects just the Indian rupee portion of the overall multi-currency bid.
Unconfirmed Financial Bid Values:
| | |
| --- | --- |
| Firm | Bid |
| Voestalpine VAE VKN India Pvt. Ltd. | Rs 72 crore |
| Vossloh Cogifer S.A. | Rs 75 crore |
Tender No: Package 15 – DM/TW/COR-OF/112
Scope: Design, Manufacture and Supply of Standard Gauge 60 Kg UIC Turnouts and Scissors Cross over for Delhi-Ghaziabad-Meerut Regional Rapid Transit System (RRTS) Corridor.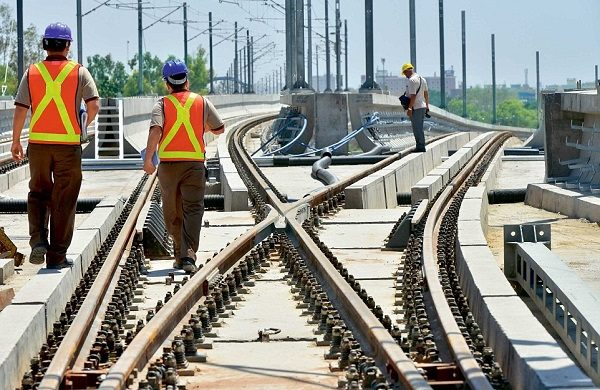 If no issues arise during financial evaluation, then Voestalpine will go on to be awarded with Package 15's contract in the coming weeks. They will be required to complete all work – from design to supply to installation to testing to commissioning – in 810 days (2.2 years).
When awarded, this will be their third major contract in the past 6 months. Back in July, they won a similar contract for Pune Metro's Phase 1 valued at Rs 21.86 crore and in September for Kanpur and Agra's metro projects with a value of Rs 64.52 crore.
A list of the Delhi – Meerut RRTS project's packages (civil & systems) and their status can be viewed here.
From what I hear, financial (price) bids for the following 4 packages have also been opened over the past 2 months. If anyone reading this has information about the winners, please leave a comment below or shoot me a message via the contact page.
Independent Safety Assessor (ISA) – there were 3 bidders
Package 14: Track Fastening – there were 2 bidders
Package 21: Escalators – there were 3 bidders
Package 22: Elevators – there were 5 bidders
Before you leave, check out this really nice drone video of the line's 18 km priority corridor shot recently between Sahibabad and Duhai:
For more updates, check out the NCR RRTS section of The Metro Rail Guy!
– TMRG