Delhi Metro Rail Corporation (DMRC) today re-invited bids for station architectural finishing works and installation of prefabricated steel roof structures at Delhi Metro's Magenta Line which is being extended in the Phase 4 project by 28.92 km from Janakpuri West to RK Ashram.
DMRC had originally invited tenders (bids) for Package DC-10 in August 2020 with an estimated cost of Rs. 183.72 crore and 24 month deadline. That tender's scope included a total of 15 stations. They opened technical bids on October 7 to reveal there was only bidder for it – Dineshchandra R. Agrawal Infracon and then cancelled the tendering process on October 24 with the following administrative message:
The following tender has been discharged due to participation of lone bidder i.e. not enough participation. The financial bid of the above tenderer will not be opened. This is as per the approval of the competent authority.
Today's new tender notice's scope includes just 7 stations between Keshopur and Deepali Chowk.
New Package Number: DC-10A-R
Brief Scope: Architectural Finishing Works Including Design, Fabrication, Supply, Erection & Roof sheeting of Prefabricated Steel Roof Portal Pre- Engineered Building (PEB) Structures & Foot Over Bridge (FOB) including Design & Construction (Substructure & Superstructure) & necessary changes in existing station for connection of FOB, External facade, Water Supply, Sanitary Installation, Drainage, Site development works at Seven Elevated Stations namely Keshopur, Paschim Vihar, Peeragarhi, Mangol Puri, West Enclave, Pushpanjali & Deepali Chowk on Janakpuri West to R.K.Ashram Corridor (Extn. of Line-8) of Phase-IV of Delhi MRTS
Estimate: 89.76 crore
Completion Period: 720 days (2 years)
Pre-Bid Meeting: 07-Jan-2021 at 11:00 AM
Bid Submission End Date: 08-Feb-2021 at 03:00 PM
Technical Bid Opening Date: 09-Feb-2021 at 03:00 PM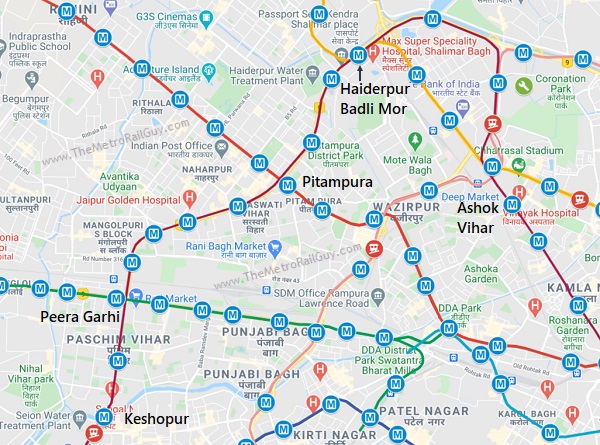 By carving up the original package into two, DMRC hopes to receive a better response. A tender notice for the other 8 shouldn't be too far away. The scope of that will include similar work at the stations coming up at Madhuban Chowk, Prashant Vihar, North Pitampura, Haiderpur Badli Mor (over existing Line-2 station), Bhalaswa, Majlis Park, Azadpur & Ashok Vihar.
Civil work for all these 15 stations is currently being carried out by CCECC – KEC JV for the 12.375 km Package DC-01 (Vikaspuri Ramp – Haiderpur-Badli Mor) and by Sam India – Gulermak JV for the 7.473 km Package DC-03R (Haiderpur Badli Mor – Ashok Vihar) sections.
For more updates, check out the Delhi section of The Metro Rail Guy!
– TMRG