Dineshchandra R. Agrawal Infracon Pvt. Ltd. on Tuesday emerged as the sole bidder to perform architectural finishing works and install prefabricated steel roof structures including foot-overbridges at 15 new elevated stations on Delhi Metro's Magenta Line which is being extended in the Phase 4 project by 28.92 km from Janakpuri West to RK Ashram.
Civil work for these 15 stations is currently being carried out by CCECC – KEC JV for the 12.375 km Package DC-01 (Vikaspuri Ramp – Haiderpur-Badli Mor) and by Sam India – Gulermak JV for the 7.473 km Package DC-03R (Haiderpur Badli Mor – Ashok Vihar) sections.
Delhi Metro Rail Corporation (DMRC) had invited tenders (bids) for Package DC-10 in August 2020 with an estimated cost of Rs. 183.72 crore, and expects the assigned contractor to complete work in 24 months.
Scope: Architectural Finishing Works Including Design, Fabrication, Supply, Erection & Roof sheeting of Prefabricated Steel Roof Portal Pre- Engineered Building (PEB) Structures & Foot Over Bridge (FOB) including Design & Construction (Substructure & Superstructure) & necessary changes in existing station for connection of FOB, External facade, Water Supply, Sanitary Installation, Drainage, Site development works at Fifteen Elevated Stations on Janakpuri West to RK Ashram Corridor of Phase-IV of Delhi MRTS.
The 15 stations in this package are located at Keshopur, Paschim Vihar, Peeragarhi, Mangol Puri, West Enclave, Pushpanjali, Deepali Chowk, Madhuban Chowk, Prashant Vihar, North Pitampura, Haiderpur Badli Mor (over existing Line-2 station), Bhalaswa, Majlis Park, Azadpur & Ashok Vihar.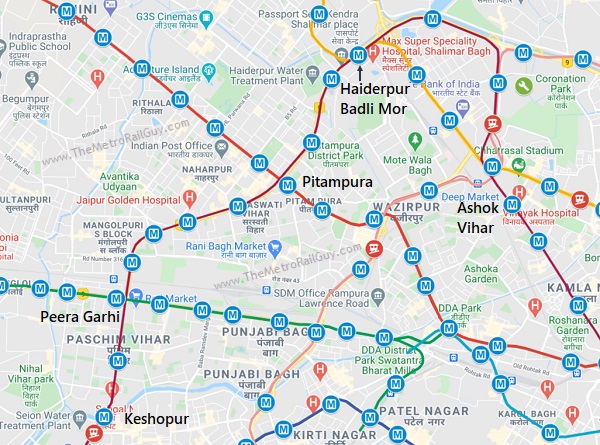 With just one bid received, I'm not sure what DMRC's game plan is going to be. If they're not satisfied with the response, then this round of bidding will be scrapped and head towards a re-tender. If they decide to go ahead in the interest of time, then DRA Infracon's technical bid will be evaluated over the next couple months. If it meets the tender conditions, then DC-10's contract will be awarded to DRA Infracon provided their financial bid is also within a certain range of the original estimate.
October 21 Update: DMRC has cancelled the tender with the following message:
The following tender has been discharged due to participation of lone bidder i.e. not enough participation. The financial bid of the above tenderer will not be opened. This is as per the approval of the competent authority.
Meanwhile, there's still no word on when the final tender notice for this line's underground section (Ashok Vihar Ramp – RK Ashram) will be published. Construction on that roughly 7 km Package DC-05 and the Silver Line's underground section (Package DC-07, DC-08 & DC-09) are dependent on the Japan International Cooperation Agency (JICA)'s approval.
For more updates, check out the Delhi section of The Metro Rail Guy!
– TMRG