Per a design document that I got my hands on, Meerut Metro's 3-coach Alstom train-sets for local services (Partapur – Modipuram) will have the same exterior design as the 6-coach trains to service the 82.15 km Delhi – Meerut Regional Rapid Transit System (RRTS) line.
Bombardier Transportation was awarded the entire line's rolling stock contract in May 2020 after they placed the lowest bid of Rs. 2577 crore, beating CAF and Alstom. Bombardier Transportation has since been acquired by Alstom with the acquisition closing in January-end.
Per the contract, they will supply National Capital Region Transport Corporation (NCRTC) with a total of 210 standard gauge aerodynamic lightweight coaches – 180 (30 x 6) for long distance travel and 30 (10 x 3) for local Meerut Metro MRTS services with 15 years of maintenance. NCRTC has the option to procure an additional 90 coaches and two years of maintenance to go with it.
Local metro trains don't require an aerodynamic nose front as there's no practical use for it at such short distances (drag is inconsequential), so I had previously thought we'd see a different design. But that's not the case in Meerut.
Here's Meerut Metro's 3 coach drawing compared to the 6 coach RRTS trains' drawing:

Per the document, following are both trains' approximate capacities:
| | | |
| --- | --- | --- |
| | RRTS (6-coach) | Metro (3-coach) |
| Seats | 400 | 190 |
| Capacity: Seating + Standing | 1750 | 900 |
6-coach RRTS trains are expandable to 9-coach. Their Lotus Temple-inspired design was prepared at Bombardier's Global Engineering and Technology Centre in Hyderabad, and released in September 2020. An official ceremony to begin their production has not yet been held.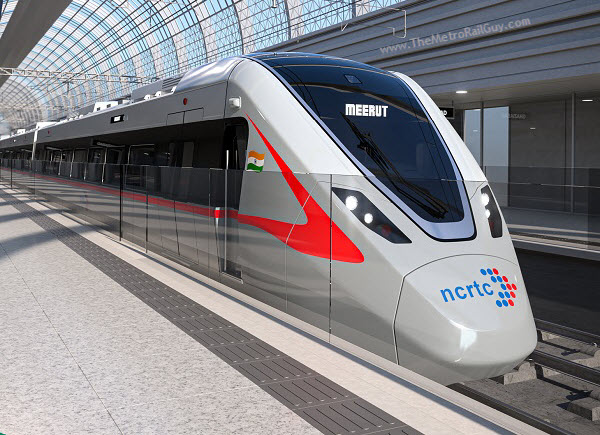 More design renderings and a video can be viewed here.
Meerut Metro's 20 km Line-1 will run from Partapur – Modipuram with 11 stations at Partapur, Rithani, Shatabdi Nagar, Brahmapuri, Meerut Central, Bhaisali, Begum Pul, MES Colony, Daurli, Meerut North and Modipuram. The ones marked in bold will also service RRTS trains.
On the construction side of things, the combined RRTS and Meerut Metro section consists of 5 packages. Here's a status (south to north):
A list of all Delhi – Meerut RRTS tenders (civil, systems) and their status can be viewed here.
For more updates, check out my Home Page!
– TMRG