Japan International Cooperation Agency (JICA) on Friday signed loan agreements with the Government of India to provide ODA loans totaling approximately Rs. 12,107 crore for the development of specific portions of Delhi Metro's 65.1 km Phase 4 and Bangalore Metro's 73.92 km Phase 2, 18.2 km Phase 2A and 37 km Phase 2B.
This development will now pave the way for both systems' operators, DMRC and BMRCL, to unleash civil & system tender notices, outlined below, for their development.
Delhi Metro: Rs 8,390 crore
For Delhi Metro's Phase 4, JICA will provide an ODA loan of Rs 8,390 crore which will be put towards financing 44 civil & system packages, some of which are already in motion.
The significant system ones include train-control and signaling package (DS-06) for the Silver Line and a 288 coach (RS-17) rolling stock package for the silver, pink & magenta lines.
The significant civil packages are spread across the 28.9 Magenta Line / Line-8 extension (Janakpuri West-R K Ashram) and 23.6 km Silver Line (Aerocity – Tughakabad)
| | |
| --- | --- |
| Civil Package | Line |
| Package DC-05: Derawal Nagar to RK Ashram, 7.46 km underground section with 6 stations | Magenta Line |
| Package DC-08: Aerocity to Kishangarh, 6.11 km underground section with 4 stations | Silver Line |
| Package DC-09: Kishangarh to Saket G-Block, 6.88 km underground section with 4 stations | Silver Line |
| Package DC-07: Sangam Vihar to Tughlakabad, 6.477 km underground section with 3 stations | Silver Line |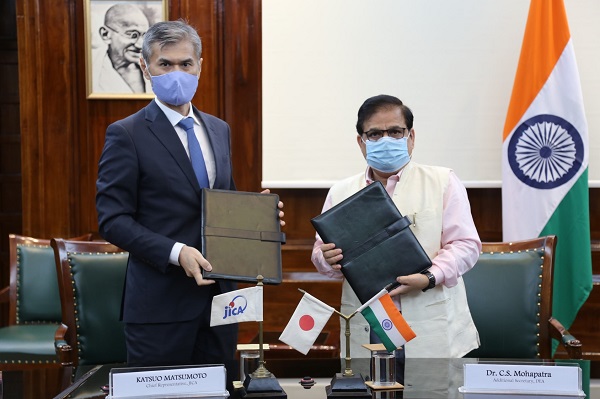 Bangalore Metro: Rs 3,717 crore
For Bangalore Metro's Phase 2, JICA will lend approximately Rs. 1372 crore for funding the systems component of the 21.386 km Pink Line (Reach 6) which will connect Kalena Agaraha (formerly Gottigere) – Nagawara through 18 stations. This includes systems such as rolling stock, signaling and automated fare collection system (AFC) etc.
Civil work by Afcons, L&T, ITD Cem for its 4 underground packages is currently being financed through a Rs. 2300 crore loan deal signed with the European Investment Bank (EIB) in 2017.
For Phase 2A (Silkboard – KR Puram) and Phase 2B (KR Puram – Kempegowda International Airport), which will form a new 56 km Blue Line, JICA will lend USD 318 million (approximately Rs 2345 crore) as disclosed back in December 2020.
Back in December 2020 the Asian Development Bank (ADB) had announced its board's approval to lend USD 500 million (approx. Rs 3680 crore) for both phases' development. While bidding is underway for Phase 2B's 3 mainline packages, BMRCL plans to issue work orders for Phase 2A's construction to Afcons and Shankaranarayana after the Central Government's cabinet approval.
For more updates, check out my Home Page!
– TMRG