June 19 Update: Contract to BSR Infratech has been awarded by BMRCL. Final value: Rs. 58,87,24,690
April 12 Original Post:
Per Bangalore Mirror, BSR Infratech has emerged as the lowest bidder for constructing Bangalore Metro's new Anjanapura Depot on Kanakapura Road at the southern-end of the 30 km Green Line.
This small new depot is important to support train operations as the Green Line was just extended southward by 5.8 km to Silk Institute in January 2021 and will be extended northward to Madavar (BIEC) by another 3.77 km in late-2022 or 2023.
BMRCL was granted Stage 2 clearance for the depot's construction in June 2020 by the Ministry of Environment, Forests and Climate Change. Design details (number of stabling lines, workshop lines etc.) are still unknown at this time.
BMRCL had invited tenders for this contract of the 73.92 km Bangalore Metro Phase 2 project in October 2020 with a Rs. 69.29 crore estimate and 20 month completion deadline. Technical bids were opened on January 9, 2021 in which 8 bidders qualified through the technical evaluation stage.
Here are the bid values reported by Naveen Menezes:
| | |
| --- | --- |
| Firm | Bid |
| BSR Infratech | Rs. 58.87 crore |
| RK Infra | Rs. 63 crore (approx.) |
| NCC | Rs. 66.86 crore |
| RPP Infra – Trivena Infra JV | Rs. 72.47 crore |
| Hombale Constructions and Estates | Rs. 75.45 crore |
| BL Kashyap and Sons | Rs. 75.80 crore |
| Starworth Infrastructure and Construction | Rs. 83.72 crore |
| Priya Engineering | Rs. 85.43 crore |
Contract: BMRCL/Phase2-/Reach-4B/AnjanapuraDepot/2020/73
Brief Scope: Construction of metro rail depot structures, site development works, internal roads & drainage works in depot area at Anjanapura in Reach-4B line of Bangalore Metro Rail Project, Phase-2
Anjanapura Depot lies just south of NICE Road, but its exact location remains a mystery. It's either coming at the Devika Rani Roerich Estate or west across Kanakapura Road.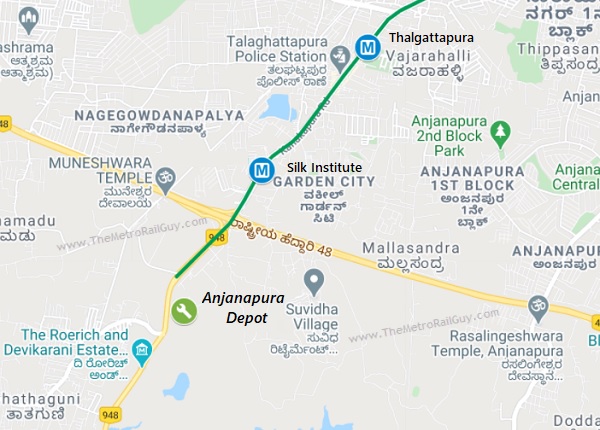 If no extraneous issues arise during BMRCL's financial bid evaluation, then BSR Infratech in the coming weeks will go on to be awarded with Anjanapura Depot's construction contract with a 20 month deadline.
With this development, here's a list of Phase 2's depots and their contractors:
| | |
| --- | --- |
| Depot | Contractor |
| Purple Line's Kadugodi Depot in Whitefield | Vascon Engineers Ltd. |
| Purple Line's Challaghatta Depot | Tender Notice Pending |
| Yellow Line's Hebbagodi Depot | Parnika Commercial & Estates Pvt. Ltd. |
| Pink Line's Kothanur Depot | ISGEC Heavy Engineering Ltd. |
| Green Line's Anjanapura Depot | BSR Infratech (this post) |
One tender notice is still pending for the Purple Line's Challaghatta Depot and Inter Modal Integration Hub (IMIH). STUP Consultants was awarded its Rs. 4.47 crore Detailed Design Consultant (DDC) contract in January 2020.
For more updates, check out my Home Page!
– TMRG
Hat-tip: Clevin Gomes