May 11 Update: DMRC has issued a LOA to Pandrol Rahee valued at Rs. 29.84 crore.
April 13 Original Post:
Pandrol Rahee Technologies (PRT) on Monday emerged as the lowest bidder for supplying a ballastless track fastening system to Mumbai Metro's 15.18 km Line-6 (Pink Line) which will connect Swami Samarth Nagar (Lokhandwala) and Vikhroli through 13 stations.
The Delhi Metro Rail Corporation (DMRC) had invited tenders (bids) for its supply through Package MT-08 in October 2020 with an estimate of Rs. 29.82 crore and deadline of 12 months. Technical bids were opened in January to reveal 2 bidders.
| | |
| --- | --- |
| Firm | Bid |
| Pandrol Rahee Technologies Pvt. Ltd. | Rs. 29.84 crore |
| Patil Rail Infrastructure Pvt. Ltd. | Rs. 31.25 crore |
Package: MT-08
Brief Scope: Supply of Fastening System for Execution of Ballast less Track in Line 6 Corridor from Swami Samarth Nagar to Vikhroli of Mumbai Metro Rail Project of MMRDA.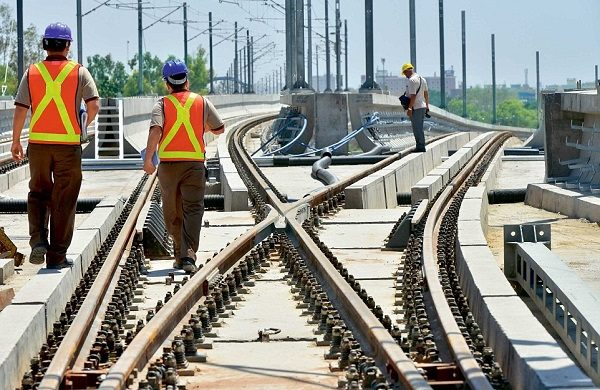 If no extraneous issues arise during DMRC's financial bid evaluation, then PRT should receive a LOA in the coming weeks. Pandrol Rahee had won a similar contract for Mumbai Metro Line-2A's track fastening in March 2019 with a combined value of INR 17,73,03,360 and USD 8,30,880 – see a list of all Line-2A contractors.
This is so far the 2nd track-work and systems-related contract of Mumbai Metro's Line-6 which will be financed by New Development Bank (NDB) through a $241 million (approx. Rs. 1760 crore) loan. The only other contract was awarded to Jindal Steel and Power Ltd. (JSPL) for Kanjurmarg Depot's track-work in early January.
Tender notices for other major systems, such as rolling stock, signaling and telecommunications are still pending.
In other Line-6 news, this weekend J Kumar launched their 1st concourse-level pier arm at Swami Samarth Nagar Station. I'd recommend turning down the volume before hitting play.
For more updates, check out my Home Page!
– TMRG