Four bidders today qualified through the technical bid evaluation round for constructing the 2.127 km Package C-8 (Sabarmati Depot) of the 508.17 km Mumbai – Ahmedabad High Speed Rail (MAHSR Bullet Train) project.
Package C8 of the main-line (chainage 507.599 to 509.726) within Ahmedabad is the shortest of 5 packages within Gujarat state. It deals with civil, building & preparatory works at the 84 hectare Sabarmati train maintenance depot which will be the largest among three depots (others will be at Surat and Thane) planned on this line for the inspection, maintenance and stabling of Shinkansen trainsets.
NHSRCL invited tenders (bids) for its construction, financed by Japan International Cooperation Agency (JICA) in October 2020 with a completion deadline of 4 years. Technical bids were opened in February to reveal 9 bidders.
Qualified Bidders
M.S. Khurana Engineering Ltd.
ISGEC Heavy Engineering Ltd.
SCC Infra – VRS JV
Dineshchandra R Agrawal (DRA) Infracon Pvt. Ltd.
Disqualified Bidders
KEC International Ltd.
Montecarlo Ltd.
Patel Infrastructure Ltd.
Ranjit Buildcon Ltd.
URC Construction Pvt. Ltd.
IFB Number: Package No. MAHSR-C-8
Brief Scope: Design and Construction of Civil and Building Works for the Depot on Design Build Lump Sum Price Basis for Double Line High Speed Railway involving works for Site Formation, Abutment, Retaining Walls, Roadbed for track, Box Culvert, Roads, Cable Duct, Foundations of OHE Masts, Piping, Drainage, Water Harvesting, Fire Fighting, Landscaping, Boundary Wall, General Inspection Train Shed, Maintenance Depot and other Associated works At Sabarmati between MAHSR Km. 507.599 and MAHSR Km. 509.726 in the State of Gujarat for the Project for Construction of Mumbai-Ahmedabad High Speed Rail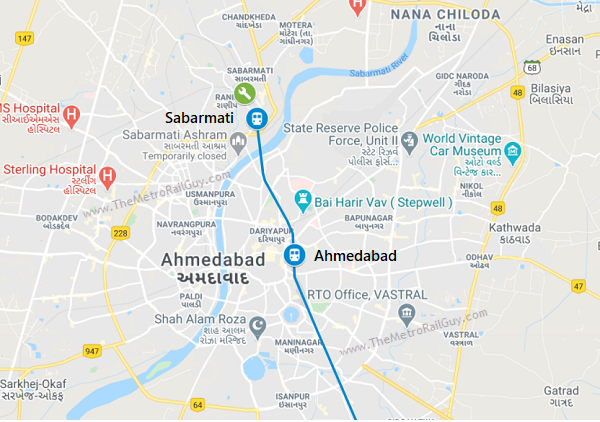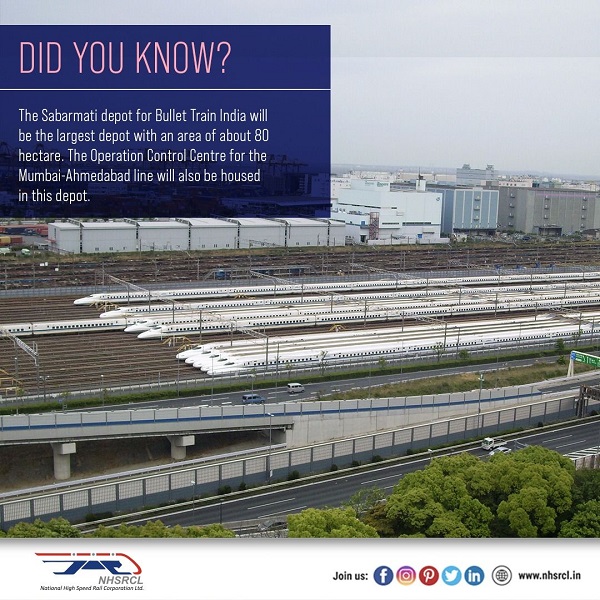 Financial bids of the 4 qualified bidders are planned to be opened tomorrow, so stay tuned to find out this package's winner! Until then, check out the bullet train's alignment within Gujarat here which I fine-tuned this weekend to match its exact alignment.
With today's development – here's a status of each civil package of the bullet train project. This table is best viewed on a desktop.
| | |
| --- | --- |
| Package & Scope | Status |
| C1: 1.028 km Underground Station at BKC, Mumbai | Bids Invited in November 2019; Current Submission Deadline: May 5, 2021 |
| C2: 20.377 km underground tunnel between BKC Station to Shilphata, Thane (3 Mega TBMs to be used) | Bid Submission Deadline Passed – No Bids Received |
| C3: 135.450 km elevated line between Shilphata, Thane and Zaroli Village (MH/GJ Border) | Tender Notice Pending |
| C4: 237.1 km elevated line between Zaroli Village (MH/GJ Border) and Vadodara | Under Construction by Larsen & Toubro |
| C5: 8.198 km elevated viaduct and station within Vadodara | Tender Notice Pending |
| C6: 87.569 km elevated viaduct between Vadodara and Ahmedabad | Under Construction by Larsen & Toubro |
| C7: 18.133 km elevated viaduct and station within Ahmedabad | 6 bids received in March |
| C8: 2.126 km viaduct, building works at Sabarmati Depot | Technical bid evaluation complete – 4 qualified (this post!) |
For more updates, check out my Home Page!
– TMRG